Location
City of Lakeville, Minnesota
Solutions
The City of Lakeville's existing Lift Station No. 6 was constructed 30 years ago as a Smith & Loveless "tin can" wet well/dry well station. The station was deteriorating due to its age. Employees had difficulty accessing the service pumps because of the buried dry well. The station was also a major source of scum and grease buildup, which required removal every two months.
Bolton & Menk designed a new lift station, which included a wet well structure with submersible pumps and a valve vault structure to house check and isolation valves. A submersible mixer on a separate rail system keeps grease and solids in suspension so they are pumped out with the rest of the wastewater. A new control panel, SCADA equipment, and generator were also included in the project.
The wet well with submersible pumps allows the city to remove and service equipment from the surface. The submersible mixer greatly reduces the frequency in which employees need to clean the station. The city now has a new, fully functioning lift station that will last for many years.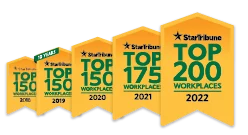 Named one of the very best workplaces in the State of Minnesota! We're proud to rank in the Top 50 on the list, and even prouder that we were voted in by our own employees.