In a world of planes, trains, and automobiles, more and more travelers are opting to use bicycles—an environmentally and economically friendlier way to get around your community. The City of St. Louis Park has made it a priority to ensure bicyclists have the necessary facilities to make safe and efficient trips by initiating their Connect the Park Plan in 2012.
Connect the Park is the city's 10-year plan to construct a comprehensive, citywide network of bikeways, sidewalks, and trails enabling residents access to nearby pedestrian facilities to travel about the city. Each year, several Connect the Park projects are completed as they move toward their goal of a fully-connected city. When possible, projects are aligned with Capital Improvement Plan street maintenance projects and engineering staff use community engagement and feedback to help guide each project's designs. This year, Cedar Lake Road's 1.5 miles of collector street from Kentucky Avenue to Quentin Avenue was selected as the Connect the Park project corridor. This stretch connects a major collector of Louisiana Avenue to the up-and-coming area of the city's famed West End. The Cedar Lake Road project, currently under construction, includes utility improvements, pavement rehabilitation, lighting improvements, intersection improvements, a roundabout, and a revamped corridor section that contains new on- and off-street bicycle lanes and ADA-compliant improvements.
The city wanted to implement three different cycle tracks along the corridor, so to ensure the new pedestrian facilities were in line with the city's vision. Several on- and off-street bicycle lane designs were considered. Design factors included safe and efficient crossings of side streets, pedestrian/bicycle interactions, active connections to transit sources, increased connectivity between existing bicycle facilities, and of course, cost.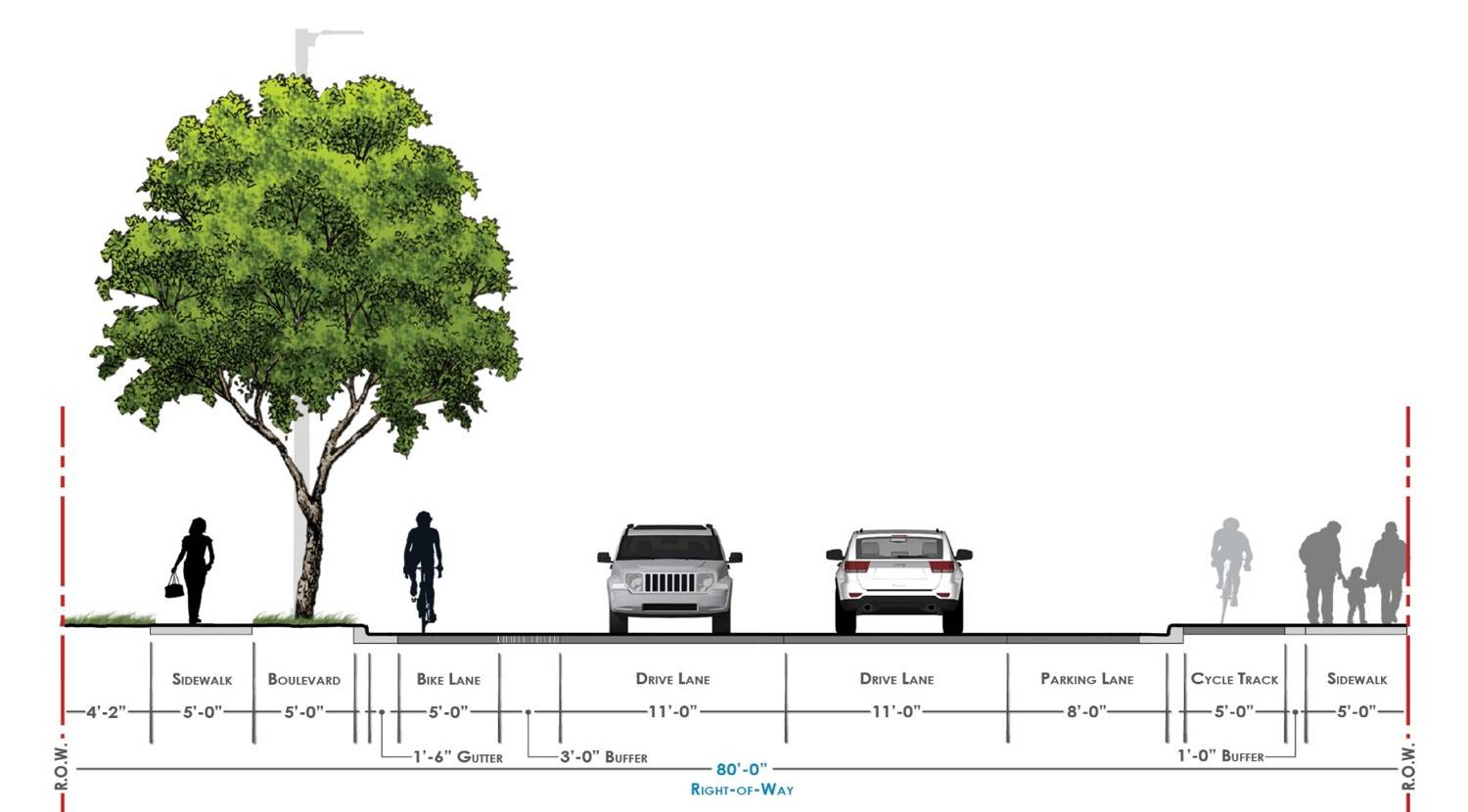 Project staff determined that the best way to maximize the existing right-of-way through the corridor was to install a dedicated off-street cycle track on the south side of Cedar Lake Road. A separate sidewalk and an on-street bicycle lane on the north side of the road was implemented to maintain the existing sidewalk behind the curb. In order to differentiate the cycle track with the sidewalk directly adjacent to it, colored concrete was used for the off-street cycle track. The bicycle lane on the north side of the street uses a variable striped buffer to separate bicycle traffic from motorized traffic.
Special considerations had to be taken to ensure bicyclist and pedestrian safety at conflict points at bus lanes and bumpouts. An expanded three-feet gutter pan along the curb line was also incorporated, doubling as a curb reaction zone for motorists. Careful consideration was made at intersections to ensure cyclists could safely cross traffic. Specialized ADA-compliant ramps were designed on the south side of the road to transition cyclists from the off-street cyclist track, onto the roadway to cross the intersection, and safely back onto the off-street bicycle lane. Green bicycle lane crosswalk blocks adjacent to pedestrian crosswalk blocks were also implemented to clarify pedestrian crossings from bicycle lane crossings. The bicycle community requested a separate lane for advanced cyclists during the public engagement process, so in addition to these two bicycle lanes, a smaller third cyclist track was implemented on the south side of Cedar Lake Road.
These new cycle tracks are an integral part of a larger comprehensive bicycle network throughout the City of St. Louis Park. These bicycle tracks along Cedar Lake Road will serve as a safe and efficient transportation option for travelers opting for non-motorized transportation to get around the city. For more information about bicycle tracks and how they can improve transportation in your community, contact Luke Wheeler or Matt Blazer at Bolton & Menk at 952-890-0509.
Written by Luke Wheeler, EIT, Design Engineer and Matt Blazer, P.E., Project Engineer, as seen in INCITER