Bolton & Menk has partnered with RoadBotics™, a global leader in providing data-driven roadway assessments. By using artificial intelligence and machine learning, RoadBotics™ provides an objective evaluation to identify pavement distress areas. Learn how we're able to take this information to create a customized pavement and infrastructure management plan for our clients.

Learn more about what our GIS team can do for your projects, here!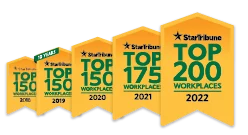 Named one of the very best workplaces in the State of Minnesota! We're proud to rank in the Top 50 on the list, and even prouder that we were voted in by our own employees.