We use the internet every day, so it's critical to keep communities connected with broadband technology. Our team has the ability to incorporate broadband into street and highway projects, ensuring quick and efficient installation to keep everything running smoothly and everyone connected. 
Read more about how Bolton & Menk incorporates broadband enhancements in street and highway projects, here!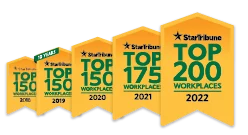 Named one of the very best workplaces in the State of Minnesota! We're proud to rank in the Top 50 on the list, and even prouder that we were voted in by our own employees.