Since 1949, Bolton & Menk has been providing public infrastructure solutions for surrounding communities with bright futures, the desire to grow, and a common challenge of aging infrastructure. We are passionate about providing the right solutions to communities that we ourselves live, work, and play in. This is proven in every project we touch, and it all comes back to our driving force: we believe all people should live in a safe, sustainable, and beautiful community and we take pride in our ability to make that happen. It's why we get out of bed every morning.
It is important that everyone feels comfortable and safe when using any form of transportation. In Anoka County (the CSAH 8 project), Bolton & Menk is working with Anoka County, the City of Fridley, and the City of Spring Lake Park to eliminate unnecessary traffic lanes and repurpose the space for better use. CSAH 8 has experienced 16 roadway crashes over a 3-year period, so by proposing to reduce the roadway to one lane of traffic in each direction this will reduce the amount of vehicle conflict points, and the risk for crashes. The existing four lane roadway, which carries between 9,000 to 12,000 vehicles per day, is a concern for pedestrians and bicyclists attempting to cross the road. The corridor includes churches, an elementary school, a hospital, multiple business and homes. As a result, users need to cross CSAH 8 and should be able to do so safely and comfortably. Increasing the shoulder and boulevard space increases the distance between the pedestrians on the trail and sidewalk from the vehicle traffic. The left turn lane will further increase the safety of the roadway by removing the turning traffic from the through traffic. The idea is to create a more enjoyable walking and/or biking experience for users.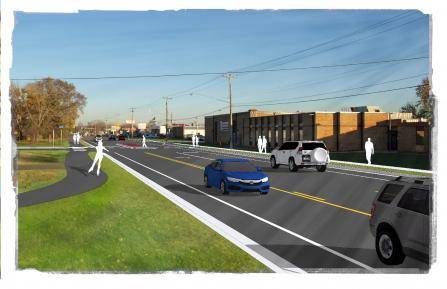 "When I'm involved in the public engagement events, community members of all ages are expressing frustration with just being able to get around, so it means a lot to me that we're making something that all people can use, and that we build infrastructure everyone can feel safe and comfortable using," said Mike Narow, transportation design engineer.
The City of Ames was looking for a way to reduce stormwater runoff and improve the quality of runoff into their storm sewer system, and ultimately the South Skunk River Basin Watershed through the city hall parking lot. In the same project, they wanted to use this public space to implement several stormwater strategies to serve as a showcase for the community. Bolton & Menk provided the technical engineering and landscape design for the parking lot and all green infrastructure components. This required a collaboration between Bolton & Menk and city staff to develop an innovative stormwater treatment solution; one that would meet the city's stormwater management requirements, as well as comply with the special constraints required by IDALS and SRF sponsored project funding. The sustainable solution included reconstructing the parking lot with permeable pavers, subsurface aggregate storage, bioretention cells, and native landscaping. The result is a site requiring reduced annual maintenance while removing more stormwater runoff from surrounding infrastructure and waterways.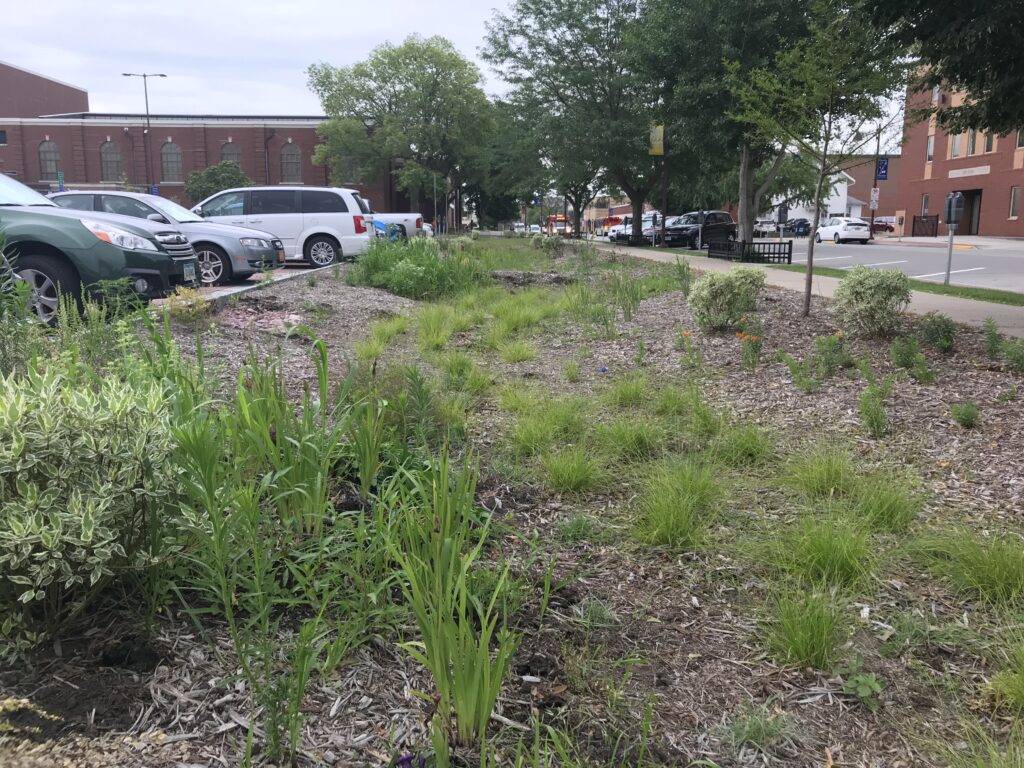 "When you see this project it just looks like landscape beds, paver parking lots, and co-turf, but it's actually a complex system enhancing the area in a safe way and contributing to a better performing, and sustainable natural environment," said Josh Shields, senior project landscape architect.
A city along the Mississippi River, Hastings, Minnesota, was looking for a way to reconnect their downtown area to the river and create a revitalized space that their community could use for years to come. After nearly 30 years of no infrastructure updates, city staff, stakeholder groups, and the public, in collaboration with Bolton & Menk, completed a three-phase, award winning project that re-connected the public to the river. This project included: infrastructure and beautification updates including a limestone amphitheater, musical playground, ice skating rink, branding and signage, enhancement of the Mississippi River Trail, and a veterans memorial. By taking the project one step further with beautification efforts, it gives the community something to celebrate each year. The city has been able to take the event space in Levee Park and it's iconic amphitheater to promote the community and its annual concert series.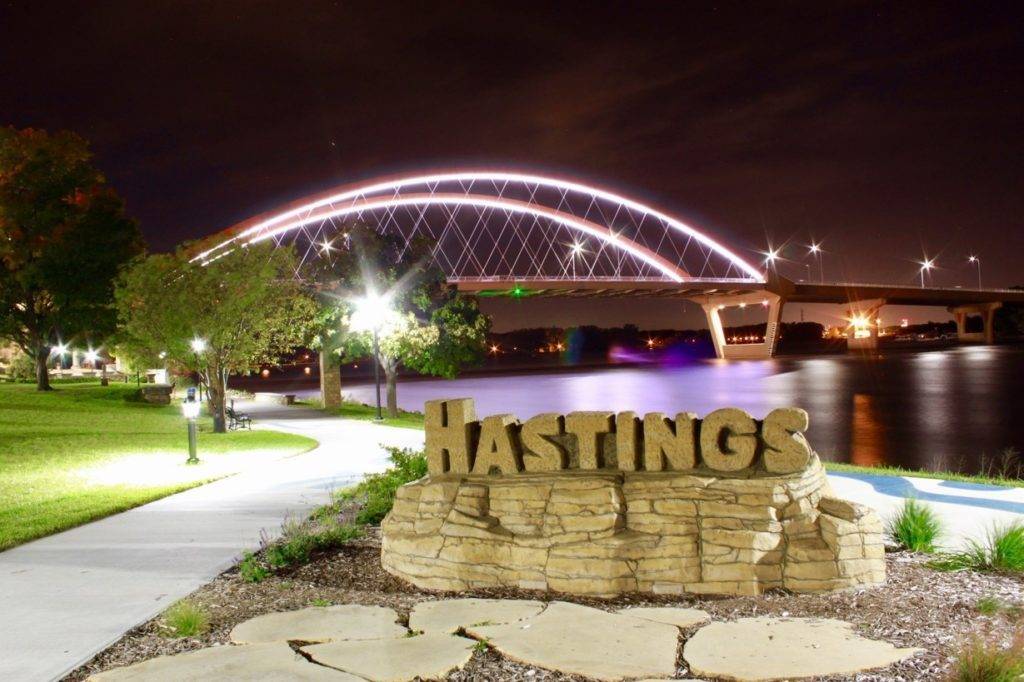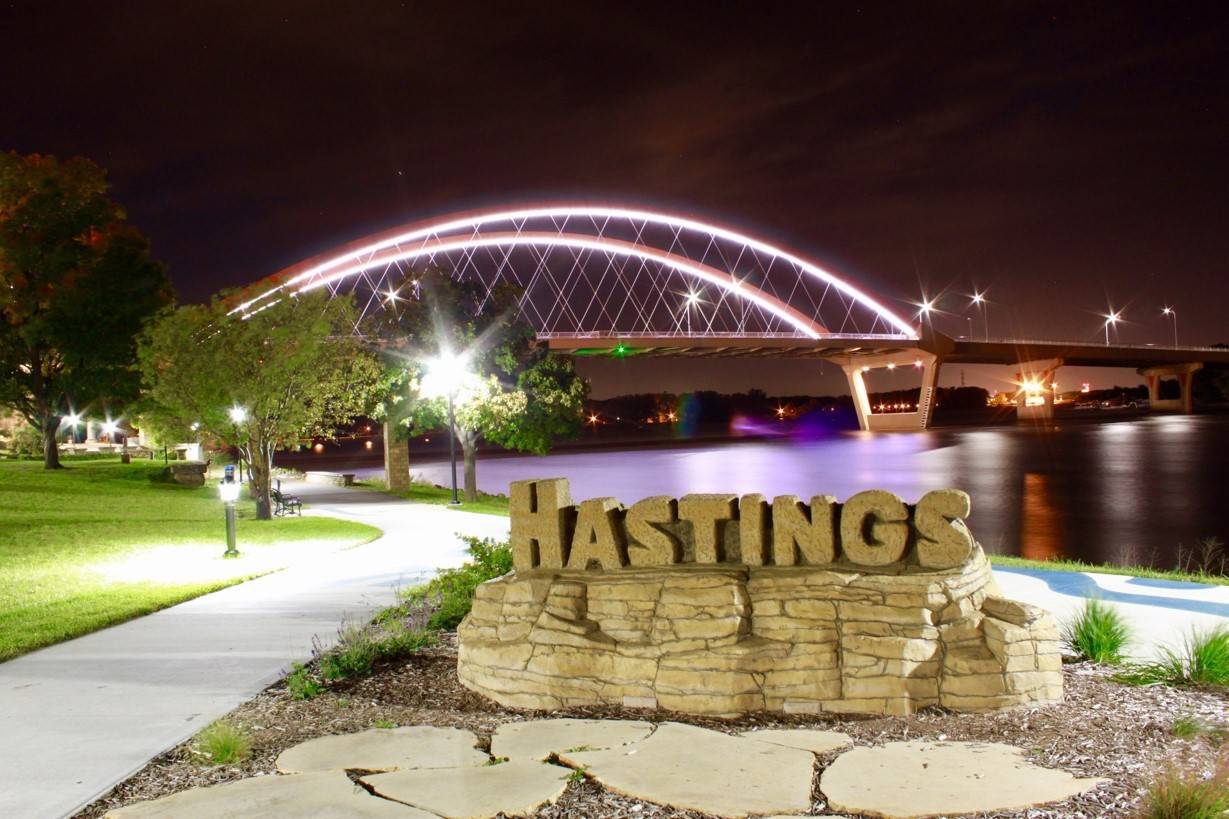 "Adding additional aspects can easily be overlooked, but that wow factor of projects where you can say, 'wow, yeah that's Hastings,' it's designed by the community and ties back to the character and uniqueness of the community," said Sam Kessel, senior project landscape architect.
At Bolton & Menk, we listen from your perspective to bring you solutions that will fit your community's needs to become safe, sustainable, and beautiful.