Speed limits stimulate a lot of discussion–they shape our communities and how we use our transportation network, and they impact safety. With so many variables, by what means can we agree on how speed limits should be set? With this question in mind, and an eye for the future, leadership teams for city and county engineering associations requested that the State Aid Division of the Minnesota Department of Transportation (MnDOT) help facilitate a first-of-its-kind effort. The purpose of this effort was to help develop a consistent and united statewide Minnesota speed limit visioning supported by a diverse group of stakeholders, partners, and users.
Setting speed limits has a long history in Minnesota. The onset of mass automobile production in 1908 created a burgeoning fleet of motor vehicles on roads and it wasn't long before the first law was introduced to address speeds. In 1911, the first speed limit law in Minnesota referenced reasonable and proper speeds on public highways, "so as not to endanger the life or limb, or injure the property of any person." Then in 1937, the Commissioner of Highways was given the authority to set speed limits on all roads. Since then, about 20 modifications to Minnesota speed laws have occurred.
A Shifting Conversation
Standards and guidelines for setting speed limits are under review by several organizations including the National Committee on Uniform Traffic Control Devices (NCUTCD), and Federal Highway Administration (FHWA). Across the nation, communities are currently evaluating, and some are modifying their approach to setting speed limits to incorporate factors such as crash history, roadway context, and the presence of vulnerable road users. A growing number of cities have also recently lowered their speed limits systemwide including Seattle, Portland, Albuquerque, Boston, New York City, Minneapolis, and St. Paul.
Speed is one consideration of road safety–and the conversation about how to set speed limits is shifting. In rural Minnesota pressure grows to increase speed limits, while in some more populous areas discussions tend to focus on moving beyond the traditional engineering approach of setting speed limits at the 85th percentile speed, which is the speed the majority of drivers are comfortable travelling at.
Developing the Minnesota Speed Limit Vision
In 2020 State Aid and Bolton & Menk partnered together and set to work. The purpose of the project was not to provide guidance on existing state statutes or to provide tools for changing speed limits, but instead to dive deep into the topic through the collaborative engagement of a diverse group.
The project task force included two groups – a Technical Advisory Group and a Transportation Users Group – to represent multiple sides of the topic including rural, suburban, and urban perspectives. The project team included transportation engineers and planners; public safety and health officials; and advocates of vulnerable user groups such as pedestrians and bicyclists.
The task force met multiple times together and in separate groups to discuss a myriad of topics including transportation equity and national approaches to setting speed limits, review Minnesota history and laws, and participate in visioning exercises. With a wide range of backgrounds and experiences, some may have predicted the two groups would be further apart in their views. However, when asked about their priorities for speed limits, there were many shared values.
The Vision
The task force used these shared values to build the vision for setting speed limits. This vision offers a consistent and unified approach while honoring data-based methods, community environment, and all users.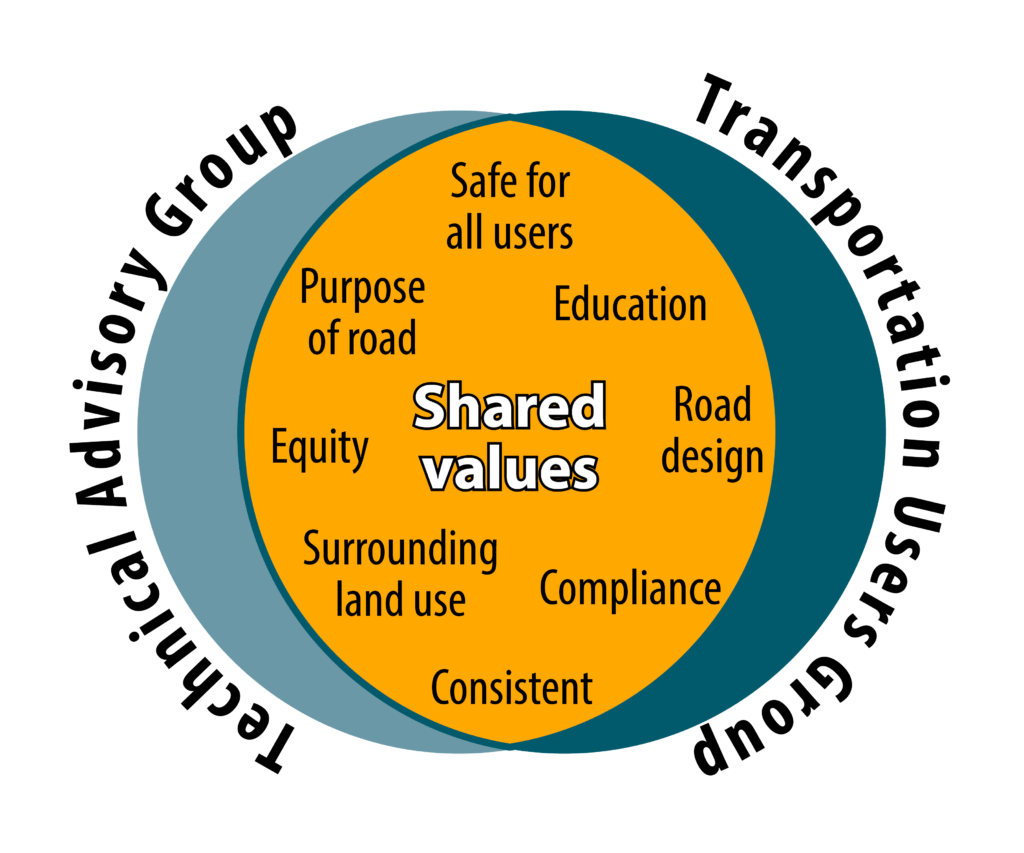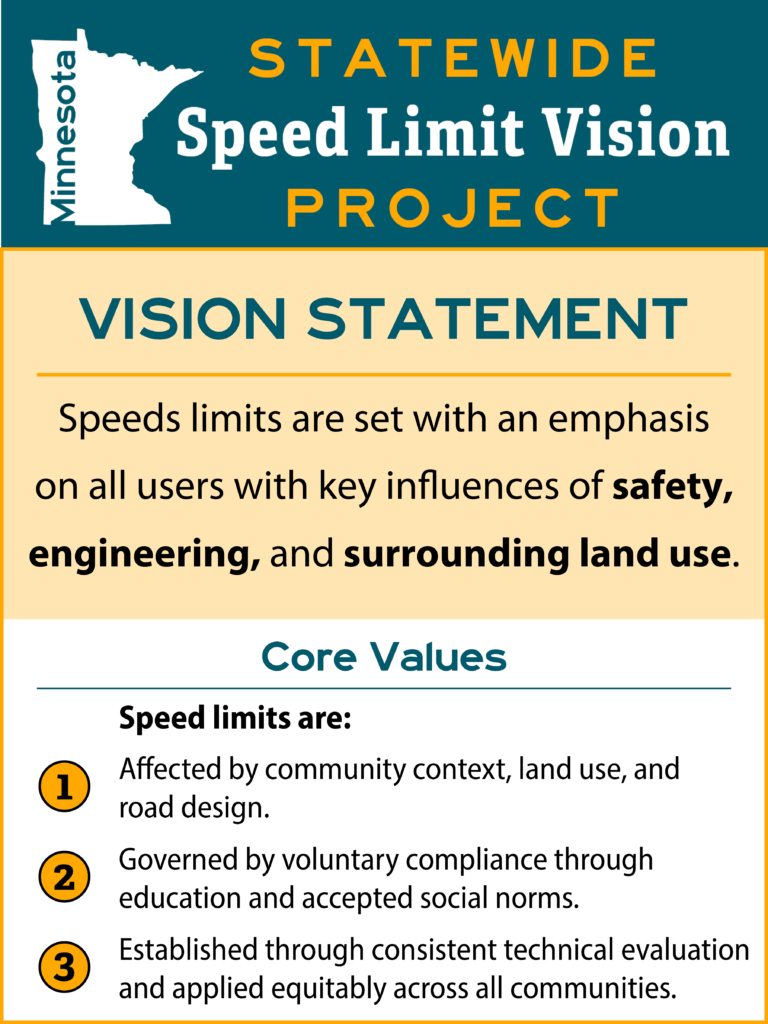 Next Steps
Now that a vision is established, it's time to spread the message. We will be sharing it with engineers, city staff, policymakers, and others across the state. The next step is to reconvene the task force in 2021 to discuss and develop the resources needed to communicate and implement this vision statewide.
Nationally, the conversation continues with the FHWA Safe Systems campaign, anticipated changes to the MUTCD, and publication of NCHRP 17-76 "User Guide for Posted Speed Limit Setting" by the Transportation Research Board.
To learn more about the speed limits in Minnesota, find answers to frequently asked questions, and explore links to useful resources, visit the project website: mnspeedlimitvision.org.
As published in Minnesota Cities Magazine, written by Bolton & Menk transportation professionals.