Bolton & Menk will be hosting the 23rd annual Salt Symposium from August 2-3, 2022. This will be a two-day live-streamed event covering all sources of chloride pollution. Content will stream both days live from 7:30 a.m. to about 3 p.m.
2022 Schedule
August 2nd topics will focus on water softening, fertilizer, and industries.
August 3rd will cover best practices and the latest developments in winter maintenance.
Benefits of Attending
Latest research in chloride
Hear from experts from across the county working on chloride
New technology and innovation in salt reduction
Discussion on new sources of chloride
Connect with vendors, sponsors, and other participants
For registration details, sponsorship support, or to submit a presentation topic idea, please click here.
Salt Symposium Acquisition
Bolton & Menk acquired the responsibilities of the Salt Symposium from the acquisition of Fortin Consulting on January 1, 2022. Fortin Consulting has been a leader in advanced chlorides management and reduction research and education for 25 years. They have provided project design and coordination that unites citizens, environmental organizations, and industry with the common goal of protecting freshwater resources. To read more about the acquisition of Fortin Consulting, click here.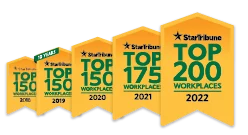 Named one of the very best workplaces in the State of Minnesota! We're proud to rank in the Top 50 on the list, and even prouder that we were voted in by our own employees.