Agricultural drainage systems are an integral part in keeping our farmland functioning and sustainable for many years. These systems help drain excess water, reduce erosion, and improve productivity of farmland, while providing a vehicle for protecting and improving the natural environment. Learn more about how our agricultural drainage team keeps these systems running smoothly in this month's New Imaginations!
Learn more about our water resources services, including agricultural drainage, here!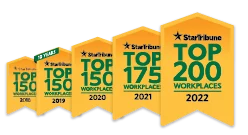 Named one of the very best workplaces in the State of Minnesota! We're proud to rank in the Top 50 on the list, and even prouder that we were voted in by our own employees.