The City of Chaska's vision is to revitalize their downtown as the hub for community destinations and gathering places that reflect and celebrate its historic character, traditional small-town atmosphere, and core values. Two major highways traverse downtown Chaska, State Highway 41 (Chestnut Street) and County Highway 61 (Chaska Boulevard). Both are four-lane roadways and have a primary focus on moving regional traffic efficiently. Although the downtown thrives on direct access to these important roadways, it also is hampered by the challenging environment that remains for residents, business patrons, and pedestrians and bicyclists wishing to spend time downtown.
In order to plan for upcoming construction projects, the City of Chaska, Carver County, and MnDOT joined together and hired Bolton & Menk to identify a future downtown transportation vision that could be supported by all agencies. Each agency committed to understanding each other's perspectives early in the process and was open to compromise in order to find common ground.
Common Goals
Coming into this process, the city, county, and state each had their own perspectives on problems to address. Some of these perspectives overlapped and some did not. However, they all understood they needed to work together to achieve each of their desired goals. For TH 41, the city had a three-lane vision with parking on both sides to recapture their downtown – while MnDOT had a five-lane vision to move vehicles more safely and efficiently. Carver County had a bridge in dire need of replacement and wanted to construct a wide bridge to accommodate growth – while the city wanted to right-size it after the study, delaying the replacement until the proper size was determined.
The city, county, and state committed to working through a detailed analysis to find a common solution. Although everyone was eager to jump into identifying solutions, Bolton & Menk led the agencies through a process to establish a set of common goals they all could respect and work toward. All agencies agreed no one goal was more important than another.
Meeting Objectives
Bolton & Menk analyzed multiple improvement concepts including several variations of a three-lane, a five-lane, and different pedestrian crossing treatments. A three-lane improvement concept is a dramatic change from the four-lane undivided roadway that exists today. This design provides a better balance between roadway needs with the pedestrian and streetscape space, creating a more comfortable and inviting downtown for all users. The city, county, and MnDOT recognized the benefit to downtown with a three-lane design yet were skeptical that it could function adequately as the principal arterial, river crossing corridor that it was.
MnDOT and the Metropolitan Council reviewed Bolton & Menk's analysis and supported the conclusion that a three-lane design was a feasible option if parking was removed from the highway. Parallel parking on TH 41 with a three-lane design was a significant safety concern for MnDOT and the Metropolitan Council. Removing parking from TH 41 was a compromise the city considered and ultimately agreed to in order to achieve support for the three-lane. The city spent months working with downtown business owners to identify plans for the relocation of TH 41 on-street parking.
Ultimately, a three-lane vision was recommended and supported by all partners. MnDOT and Carver County objectives were met by ensuring safe, efficient, and reliable vehicle mobility will be maintained on these highways into the future. The city's objectives were met by the three-lane design and pedestrian crossing enhancements, providing a better balance between the roadway and downtown pedestrian environment.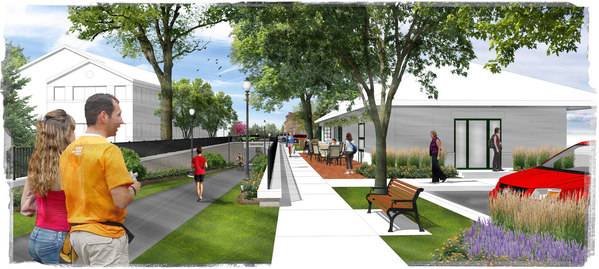 Leveraging Resources
The timing was right for the city, county, and state to come together to leverage resources towards a common goal. The City of Chaska completed the streetscaping plan, developed off-street parking concepts, and performed continuous outreach to the business community. Carver County contributed towards regional trail planning, provided leadership in funding components, and delivery. MnDOT assisted with traffic scenario reviews, forecasting, modeling, cultural resources review, defining streetscape opportunity zones, and funding assistance.
Unique Outcome If not for this project, it is likely MnDOT would be completing a pavement rehabilitation project with potential turn lane additions on TH 41 as planned. Carver County would likely have only replaced a deficient bridge on County Highway 61. Local access, pedestrian crossing enhancements, regional trail connections, and a reduction in lanes were not in the current plan for either of these roadway improvements. Through collaboration between all parties, these additions were included in the plan, thus creating more streetscape, beautification, and pedestrian space on TH 41.
Recognizing each other's goals and needs, being open to compromise, and committing to over two years of meetings, outreach, and coordination has led to a unique outcome the City of Chaska, Carver County, and MnDOT can support. This collaboration created an implementation plan that balances the regional function of the roadways with the city's desire to enhance the downtown environment for all road users and businesses.