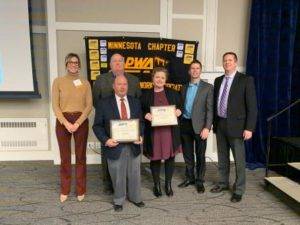 The American Public Works Association (APWA) – Minnesota Chapter recognized Forest Lake Area Schools at the annual conference on November 22. The High School Water Stewardship project received the Environmental Stewardship award for their commitment to environmental conservation and protection.
In 2016, a unique partnership was developed amongst the City of Forest Lake, Rice Creek Watershed District (RCWD), the Minnesota Department of Health, Forest Lake Area Schools (FLAS), Forest Lake High School environmental, biology, and agriculture faculty, and the student-led environmental club. FLAS began to improve facilities at the high school and had to meet RCWD's stormwater management permit requirements. The first phase of a long-term stormwater reuse and education program included construction of a new stormwater basin to filter and treat stormwater that was converted to a wet pond to provide re-use system water storage. The pond receives runoff from a drainage area of 19.9 acres, including 14.3 acres of impervious surfaces. In order to irrigate approximately 12 acres of athletic fields, this pond provides a storage volume for supply into the existing irrigation system. An existing water supply remains connected to the irrigation system and supplements the irrigation supply during drier periods. During this phase, stormwater pond retrofits and construction of a new irrigation infrastructure will reduce potable groundwater usage at the high school by more than 4 million gallons-per year. This helps support the city's initiative to reduce irrigation and other non-consumptive water uses.
An educational curriculum was also developed to integrate the reuse technology and water conservation concepts into biology, agriculture, and earth science courses. Through science and technology curriculum development, teachers and students will monitor water used compared to stormwater harvested for irrigation. Additional educational materials were developed to track water usage benefits for both student and public consumption. FLAS faculty were excited to think outside the box and develop lessons surrounding the importance of stormwater management on their campus.