We believe all people should live in safe, sustainable, and beautiful communities.
Project websites are a crucial way to relay important information to those affected by all areas of project progress. Check out the websites below for the most up-to-date information for projects in your community.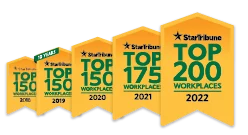 Named one of the very best workplaces in the State of Minnesota! We're proud to rank in the Top 50 on the list, and even prouder that we were voted in by our own employees.