Protecting your information
Bolton & Menk collects information that you provide directly to us, through various forms on the Bolton-Menk.com website. By filling out our Contact Us form, requesting a survey, applying for a job, or generating an email through the website, you are submitting personal information to us. Bolton & Menk will never share or sell your information but will use it only for the purpose for which you provide it.
Bolton-Menk.com use of cookies
To enable our website to function properly and improve your experience while navigating our site, cookies are in place that store information on your computer or mobile device to enhance your experience on our website. Cookies are not used to capture or store any of your personal information.

Bolton & Menk uses Google Analytics to collect anonymous traffic data about your use of this website, such as pages visited, the browser and operating system used, and time spent viewing pages. This information helps us improve the site. We don't capture or store personal data associated with any of this information.

Bolton-Menk.com provides direct links to social-media sites such as Facebook, Twitter, and LinkedIn. Those sites use cookies that are controlled by their own privacy policies.

The listing of our office locations provide links to google maps. Google controls their own privacy policies with regards to location services which are out of our control.

Our invoice payment portal is a separate web service offered through Wells Fargo Bank N.A. Privacy policies/Terms of Service relating to invoice payment credit card transactions are controlled by Wells Fargo Bank N.A. and are out of the control of Bolton & Menk, Inc.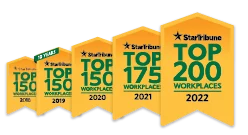 Named one of the very best workplaces in the State of Minnesota! We're proud to rank in the Top 50 on the list, and even prouder that we were voted in by our own employees.