Bolton & Menk, Inc. ranks first on Minneapolis/St. Paul Business Journal's Largest Metro Engineering Firms top 25 list. Bolton & Menk has 131 metro registered engineers and 184 total firmwide. The firm has nearly 600 employees in 23 office locations in Minnesota, Iowa, North Carolina, South Carolina, and North Dakota.
Minneapolis/St. Paul Business Journal ranks firms by metro-area registered engineers. Metro-area engineers include those registered with the Minnesota Board of Architecture, Engineering, Land Surveying, Landscape Architecture, Geoscience, and Interior Design.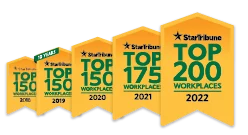 Named one of the very best workplaces in the State of Minnesota! We're proud to rank in the Top 50 on the list, and even prouder that we were voted in by our own employees.