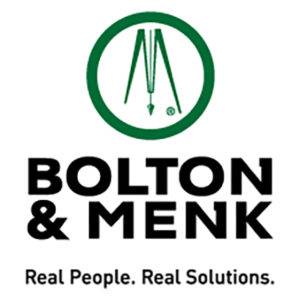 The Society for Marketing Professional Services (SMPS) awarded Bolton & Menk with a Merit Award for Brand Awareness of the "Real People. Real Solutions." marketing campaign.
After rebranding in 2016, we rolled out a "Real People. Real Solutions." campaign full-force in 2017. This included incorporating the new brand into our proposals, social media, website, videos, advertisements, and at conference expos.
Why "Real People?"
One of the greatest assets of Bolton & Menk is our people. As a company, we have a track record of building and maintaining strong, genuine relationships with our clients. No hidden agendas or ulterior motives. Nothing to hide. We have always done this by being honest, authentic, and delivering on our promises. In other words, by being real.
Why "Real Solutions?"
We deliver solutions to client challenges. It's at the core of what we do. The word "real" evokes a sense of honesty, authenticity, hard work, dedication, and caring.
The SMPS Marketing Communications Awards Program is the longest-standing, most prestigious awards competition that recognizes excellence in marketing communications produced by professional services firms in the design and building industry. We are thrilled to have been a finalist for this significant achievement.