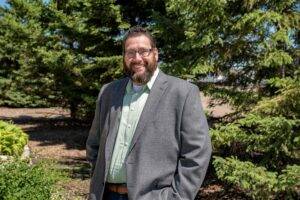 Congratulations to Chris Dahl, who has been announced as one of Prairie Business' 2020 40 Under 40 Professionals. The 40 Under 40 list profiles young professionals in the North Dakota and Western Minnesota region, all under the age of 40. These inspiring and dedicated professionals come from a wide range of industries and have made significant impacts in their chosen professions and communities.
Chris has been planning, designing, delivering, and constructing roads and bridges in North Dakota and Minnesota for the past 14 years. Since graduating from NDSU, he has gained experience across many facets of the civil engineering field and specializes in fixing problems. He has a passion for understanding why things don't work and won't rest until solutions are found. He is an energetic and positive leader that engages staff and takes great pride in mentoring and developing the abilities of his coworkers.
Chris is also a believer in lifelong learning and strives to take on new challenges that get him out of his comfort zone to grow both professionally and personally. Chris has an excellent balance of technical and interpersonal skills. The fundamentals of his personality are to be honest and sincere, respect everyone's opinion, listen and understand, admit when you are wrong and learn from it, and most importantly, challenge yourself.
Congratulations to Chris and all of the honorees!