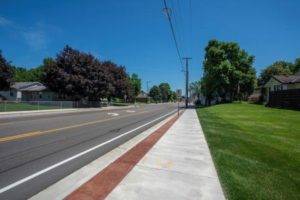 The Institute of Transportation Engineers recognized Dakota County and Bolton & Menk with the 2019 Transportation Achievement Award for Planning for the Southview Boulevard (CSAH 14) and 3rd Avenue Improvements project on July 22 at their annual conference in Austin, Texas. The award recognizes those in the planning category based on excellence in the advancement of transportation to meet human needs, by entities concerned with transportation such as governmental agencies, legislative bodies, consulting firms, industry, and other organizations.
Bolton & Menk completed preliminary design on the corridor defining what will be built including the width of road, sidewalks and amenities. An initial step in the study was to develop clear definition of the problems to be solved. Some of these elements included traffic and safety conditions, parking, pedestrian facilities, transit facilities, and utility condition. Our team lead stakeholders to accept the removal of two traffic signals as we worked to target the issues. We developed and evaluated corridor concept and streetscape alternatives, including streetscape nodes and intensity levels. We made study recommendations easy to understand by producing a high-quality 3D flyover simulation to show the community what they could get. The preliminary design efforts resulted in council approval of the conceptual design.
The project will enhance pedestrian/transit accommodations, streetscape elements, traffic operations, and public safety. Our team lead a robust public involvement process that engaged the public, businesses and residents through use of a Business Advisory Committee, Citizens Advisory Committee, individual property owner meetings, public open house meetings, project website, and social media updates. Our work continued with final design completion in 2017 and construction in 2018.
Congratulations to all who worked on the project!