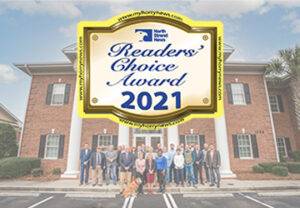 DDC Engineers, Bolton & Menk, has been named North Strand News Readers' Choice Awards' Best Engineering Firm of 2021 for the first time. The winners were chosen by more than 1,600 readers of the North Strand News and MyHorryNews.com who provided more than 40,000 votes to recognize and support their favorite businesses. DDC Engineers was voted into the #1 spot!
This recognition comes alongside the U.S. News & World Report's announcement that Myrtle Beach ranks No. 1 on its list of "fastest-growing places in the United States". This brings increased opportunities to the firm, with members excited to take advantage of the growing area.
"It's both exciting and challenging to be at the epicenter of the nation's greatest human migration to the South," said Mike Wooten, Principal Engineer – Myrtle Beach. "Exciting, because of the opportunities brought by the tremendous growth being seen in the area. Challenging, knowing what this exponential growth will do to our already overtaxed infrastructure. With our partnership with Bolton & Menk, we are confident that we can meet the challenges this growth offers while taking advantage of any and all opportunities to expand our market coverage."
"We are excited to continue expanding our client-focused approach to this rapidly growing area of the United States," agreed Bolton & Menk's Chief Executive Officer, Bradley DeWolf. "Our combined efforts leverage our resources and bring DDC's clients a depth of innovative products we've worked hard to develop in the Midwest. We couldn't be more excited to continue our collaboration to build safe, sustainable, and beautiful communities now in the Southeast United States."
Bolton & Menk, Inc. acquired DDC Engineers on January 1, 2021, allowing our partnership to bring innovative product and service offerings to DDC's well-established footprint in the Carolinas. Founded in 1986, DDC Engineers has grown to be the Grand Strand's largest professional design firm and is now recognized as a Best Engineering Firm by both the Myrtle Beach Herald and the North Strand News.
Learn more about DDC Engineers, Bolton & Menk, here!