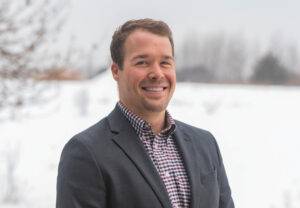 Congratulations to Grant Kuper, who has been announced as one of Prairie Business' 2021 40 Under 40 Professionals. The 40 Under 40 list profiles young professionals in the North Dakota and Western Minnesota region, all under the age of 40. These inspiring and dedicated professionals come from a wide range of industries and have made significant impacts in their chosen professions and communities. 
Grant began working in the engineering field in 2012 and has been part of multiple improvement projects within North Dakota and Minnesota, ranging from on-site construction project manager, project design engineer, project manager, and city engineer. He likes to think about projects from the client's perspective, which helps him envision how the end product should look and feel. Grant's attentiveness to detail and commitment to his clients has been unmatched by others in the industry. His passion for his job not only translates over to the communities he serves but also the people he works with at Bolton & Menk. 
Grant is always the first to reach out to serve others and support the community, whether through his church community, food banks, or other volunteer efforts. He is always looking for ways to better both himself and the communities he serves. His respect for individuals, eagerness to help, dedication to both personal and organizational growth, and most importantly his warm disposition makes him an ideal recipient of this award.  
Congratulations to Grant and all the 2021 honorees!