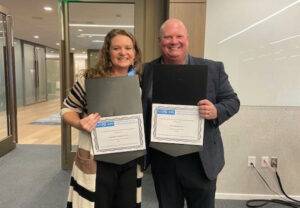 Congratulations to Jacqueline Thompson, who has been announced as the 2021 Young Engineer of the Year award winner from the Minnesota Society of Professional Engineers (MnSPE). The MnSPE Young Engineer of the Year award recognizes outstanding achievements of a licensed MnSPE member under the age of 35. Jacqueline was presented with the award on December 8th at the joint MnSPE and National Society of Professional Engineers (NSPE) Professional Excellence Celebration in Minneapolis.
As a project engineer for Bolton & Menk, Jacqueline completes preliminary and final designs of street and utility improvements for various municipalities and counties. She has worked with several townships as their engineer, assisting with grant applications, board meetings, and managing field questions. She also has experience performing construction observation and quality documentation while communicating with residents and city staff on street and utility improvements, new residential subdivisions, intersection improvements, sanitary sewer lining, and various infrastructure improvements.
Jacqueline has been an active member of MnSPE since 2014, and was instrumental in forming their Young Professional group, as well as a leadership program for young professionals. From 2020-2021 she served as a MnSPE board member. In addition to her professional society involvement, Jacqueline frequently donates her time to civic and humanitarian events, including STEM/STEAM events and company fundraising and volunteerism.
Jacqueline loves the fact that she is helping improve neighborhoods and city infrastructure and is making a difference in people's daily lives.
Congratulations to Jacque on this achievement! 
Jacque Thompson is no stranger to recognition, watch this video to hear why she became an engineer and some of her other accomplishments.