Mark Schulz was named the recipient of Bolton & Menk's 2022 Founders Award. Mark is the Director of CAD Operations in Bolton & Menk's Mankato location.
Mark has served as the Director of CAD Operations for Bolton & Menk since 1998. He is responsible for oversight of the CAD support work group and is responsible for budgeting, purchasing, and license management and compliance for all design software. A recipient of Bolton & Menk's 2020 Exceptional Effort Award, Mark's passion for his work can be seen through his drive to provide quality solutions and raise the standard of excellence. "The 600 plus CAD users we have today is a far cry from the 40 we had when I started. It has certainly been challenging over years as our users have increased, but it's rewarding to know that at the end of the day, the CAD support team is doing what's necessary to support our design staff."
The Founders Award, presented annually, honors the firm's founders, John Bolton & Martin Menk. It recognizes an individual's initiative, commitment to quality and client satisfaction, as well as other outstanding contributions to the success of the firm. John and Martin believed that a business is truly successful when people are committed to its goals, represent the firm well in their community, and are dedicated to meeting client needs.
Congratulations, Mark!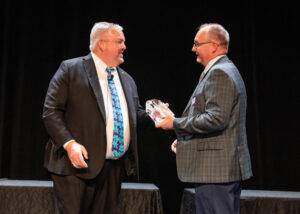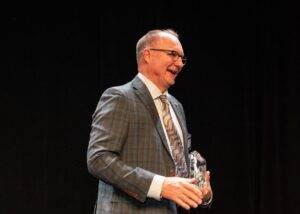 Learn more about John and Martin's commitment to quality and dedication to their employees, here!