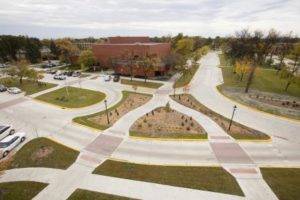 The American Public Works Association (APWA) – North Dakota Chapter recognized North Dakota State College of Science (NDSCS) at the North Dakota Water and Pollution Control Conference with the 2018 Project of the Year Award for communities under 5,000 for their Campus Infrastructure Improvements project.  
NDSCS, in Wahpeton, is the premier trade technical college in the state. The second oldest two-year college in the country, NDSCS enrolls about 3,000 students each year. The campus was plagued by water and sewer issues due to aged infrastructure. The North Dakota State Legislature appropriated $13.3 million to address the infrastructure issues at NDSCS. The college used the funds to replace the utility infrastructure and address pedestrian, ADA, parking, and traffic movement improvements.
Bolton & Menk provided program management, engineering and landscape architecture design, and construction observation. A campus-wide GIS system was implemented for efficient collection and use of as-built and utility information that reduces facility labor costs and increases accuracy of information for asset management. Additionally, a robust public and campus information campaign was implemented, which included a project-specific website, social media and text alerts, and public/campus meetings. Because of innovative planning and engineering, the campus underwent its most important, intrusive, and disruptive project—all while maintaining full operational capacity, classes, and additional events. The campus now has state-of-the-art utilities, enhanced pedestrian transportation, and campus beautification through landscape architecture.