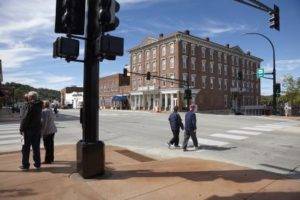 Mid America Association of State Highway and Transportation Officials awarded Minnesota DOT and the City of Red Wing Highway 61/Main Street Project with the Mid-America Quality of Life/Community Development Award in the small category for a project less than $25 million.
Trunk Highway 61, locally known as Main Street, is the primary roadway running through the heart of Red Wing. MnDOT had planned a pavement preservation project through the community. Bolton & Menk provided funding assistance for the City in hopes of completing a full reconstruction to achieve their goals for this important corridor. Through an extensive application process, funding was obtained through the MnDOT Corridor Investment Management Strategy.
The project included reconstruction of the roadway corridor, enhanced multimodal travel, new signal systems, various streetscaping elements, and complete replacement of utilities. An ongoing stakeholder involvement process was implemented to initiate communication early in the project, engage business owners in critical decisions, and include innovative services throughout construction.
While the primary objective was infrastructure replacement, the final outcome provided much broader benefits. The reconstructed corridor addresses future transportation needs, enhances the business environment, and offers a safe and aesthetically pleasing alternative to what was once a dated and exhausted travel route.
The final America's Best Transportation Project regional winners will be announced in August. The three highest-scoring projects from each region will advance to the "Top 12." Those 12 projects will compete for the Grand Prize, determined by an independent panel of expert judges, and the People's Choice Award, selected by the general public through online voting. The winners will be announced at the AASHTO Annual Meeting in Phoenix in September.