Watch below to learn how we helped the City of Pipestone reduce chlorides in their wastewater–featuring our very own, John Graupman and Walter the Raindrop!
As featured during the 2020 WEFTEC Connect Conference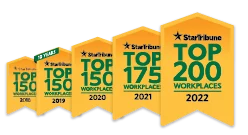 Named one of the very best workplaces in the State of Minnesota! We're proud to rank in the Top 50 on the list, and even prouder that we were voted in by our own employees.