Katie Sterk, environmental project manager out of Bolton & Menk's Ames location, has been awarded the 2022 Outstanding Service to IA-AWWA Award. The Outstanding Service to IA-AWWA Award recognizes and honors members of the Iowa Section of the American Water Works Association who have demonstrated outstanding service to the association through leadership and active participation in IA-AWWA programs.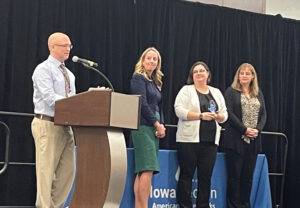 Outside of her participation in IA-AWWA activities, Katie enjoys volunteering in STEAM-focused kids' activities. "… I take time to volunteer for events like the Iowa Children's Water Festival every May and read books like "Walter the Rain Drop" to my son's class. I get to watch those kids' wheels start turning as they begin to imagine what's possible in their communities and in their own futures."
Katie is an environmental project manager who joined Bolton & Menk in 2007. She enjoys finding the right way to help clients address their ever-changing water and wastewater needs. Katie works with clients to design new supply, storage, and treatment infrastructure and to improve or rehabilitate existing systems. She is also an expert in water distribution modeling and has completed models for small and large communities to assist with planning and growth. Katie has experience managing every phase of a project from initial concept through final completion. More than that, Katie has the understanding and skill to navigate each unique project and provide a successful outcome for her client. She looks forward to the diverse experiences and challenges that each new client and project brings.
Learn more about Katie's passion for providing clean water to Iowa communities in What's the Fact?