We are honored to announce that signature Uptown Charlotte urban park, The Green, was selected for an ASLA SERC Merit Award in the Landmark project category. A Merit Award is provided for creative and functional project solutions. The Landmark category recognizes distinguished landscape architecture projects located in the Southeast region, completed at least 15 years ago, that retain their original design integrity and provide a positive contribution to public open space.
About The Green
The Green has been an intrinsic part of the Uptown Charlotte, NC urban fabric since 2002. In many respects, it set the standard for urban public space in Charlotte and has influenced countless cities in the Carolinas. Birthed from a vision to provide green space for community members and workers in a city needing vibrant public space, the 1.5-acre urban park is a hidden jewel within Charlotte's Second Ward. Reclaimed from an abandoned street right-of-way, the park is located between the four hundred blocks of S Tryon Street and S College Street, nestled between the Levine Center for the Arts cultural campus and the Charlotte Convention Center.
About NCASLA
The mission of the American Society of Landscape Architects – North Carolina Chapter is to advance landscape architecture through advocacy, communication, education, and fellowship.
We are proud to have a talented team of landscape architects who work to serve this purpose and to uphold our mission of creating safe, sustainable, and beautiful communities.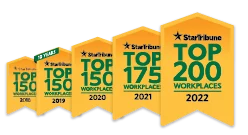 Named one of the very best workplaces in the State of Minnesota! We're proud to rank in the Top 50 on the list, and even prouder that we were voted in by our own employees.