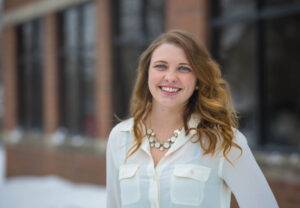 Mika Kinney, design engineer out of Oakdale, Minnesota, has been named one of the top finalists in Finance & Commerce's Top Women in Construction feature. This recognition is given to women throughout Minnesota for their innovative approaches to industry development, community involvement, and business integrity. Women were nominated in seven categories – Companies to Watch, Industry Leadership, Outstanding Project Management/Estimating, Outstanding Service to the Industry, Outstanding Craftswoman/Tradesperson, Professional Services, and Unsung Hero. Mika has received honors in the Professional Services category.
Mika started at Bolton & Menk as an intern in 2016 and worked in the field for two summers before joining full-time in 2018. She serves the firm as a design engineer and construction inspection manager. From the very beginning, Mika knew the field was the right place for her. She coordinates construction activities, QA/QC testing, contractor schedules, and performs field engineering for Twin Cities residential road rehabilitation projects. While on the job site, she communicates with clients, community members, and contractors through weekly meetings, neighborhood meetings, and open houses. She also develops AutoCAD designs and prepares plans and cost estimates for municipal projects including site grading, utilities, and street improvements.  
Contractors are relieved to see Mika's name leading their construction projects because they know she is an effective communicator and does everything possible to ensure her projects go off without a hitch. She is the first person to volunteer her time if something is needed and always goes the extra mile to make sure all aspects of the project are done correctly. Her organization and attention to detail doesn't go unnoticed—with Mika, all boxes are checked, and no stone is left unturned.    
Check out Mika and the other Top Women in Construction recipients, here!