We are thrilled to announce Bolton & Menk, Inc. was selected as the 2021 Women in Transportation Seminar (WTS) Iowa Chapter Employer of the Year. This award honors an organization for recruiting, retaining, and advancing women within the transportation sector. 
Bolton & Menk has incredibly talented women in our transportation work groups that provide safe, sustainable, and beautiful communities to our clients. We strive to provide the highest quality transportation planning and engineering services and deliverables. Our mission is to make progress by listening to stakeholders to develop the best solutions for their needs while treating everyone with kindness and respect. We also understand the value of insight that women bring to the table and embrace all ideas to ensure diversity, inclusivity, and equity in our workplace. We are incredibly proud of this group for the real solutions they bring to communities. 
Bolton & Menk, Inc. specializes in providing public infrastructure solutions. We take care of our clients by providing quality services and the right solutions for their needs. With 24 locations throughout the Upper Midwest and Southeast United States, our team is made up of more than 700 employees including a professional staff of more than 250 engineers, planners, landscape architects, and surveyors. We're Real People offering Real Solutions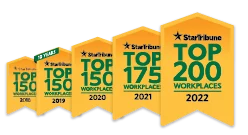 Named one of the very best workplaces in the State of Minnesota! We're proud to rank in the Top 50 on the list, and even prouder that we were voted in by our own employees.