Marcell Walker
Community Outreach Liaison
Marcell joined Bolton & Menk in 2020 as a community outreach liaison. He is responsible for engaging various communities, community-based organizations, and agencies to better understand their outreach and engagement needs. He supports projects in the areas of outreach and engagement to meet client and stakeholder needs. With more than a decade of robust experience at the state level, Marcell is an expert at conflict resolution, facilitation, community outreach and engagement, and government relations. Most recently, he has served as a member of Reconnect Rondo's Technical Advisory Committee and is the Rethinking I-94 study project PAC project advisor and facilitator. Marcell excels at consensus building, conflict resolution, project management, and stakeholder engagement. He knows the study stakeholders and can use those relationships to effectively resolve conflict and lead the creation of co-created and engaging strategies. Marcell will use the right balance of disciplined processes and soft interpersonal skills to build trust while keeping the study on schedule.
Education
University of Saint Thomas

North Dakota State College of Science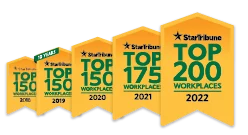 Named one of the very best workplaces in the State of Minnesota! We're proud to rank in the Top 50 on the list, and even prouder that we were voted in by our own employees.