---
---
Bolton & Menk specializes in providing community infrastructure solutions. We have more than 70 years of experience serving the Upper Midwest and beyond. We are looking for a Survey Technician Apprentice to join our team. As a Star Tribune Top200 Workplace, this is a fantastic opportunity to work with a great team of professionals and start your career!
As an apprentice, you will help foster our mission that all people should live in safe, sustainable, and beautiful communities! We are passionate about using collaboration to lead us to the right solution; a solution that can be planned for and funded that not only works today but long into the future. Our expertise offers a fresh, engaging approach to solve multi-faceted problems involving technical, regulatory, and community issues. You will have the opportunity to develop practical survey skills on-the-job while learning fundamentals from an accredited educational institution.
Benefits included!
You will learn how to:
Assist with field assignments for average land surveying scopes of work including construction staking, boundary location, ALTA, and topography for various projects
Perform basic survey computations
Assist in preparing and producing survey drawings using CAD and other survey/engineering software
What we are looking for:
Must possess a high school diploma, GED, or HiSET
Must possess a valid driver's license and your own transportation; you will be reimbursed for business-related travel
Must be capable of working in extended outdoor conditions and you must be physically capable of navigating rugged terrain for the purpose of performing the construction observation duties.
Must possess basic computer skills
Occasional travel may be required
WHY BOLTON & MENK?
Work with a creative and hardworking team, who believe in client satisfaction and building relationships. For more than 70 years Bolton & Menk, Inc. has served public and private clients with comprehensive planning, design and construction engineering and surveying services. The employees at Bolton & Menk are seeking hardworking and ambitious co-workers to join us to deliver tomorrow's leading infrastructure projects. Bolton & Menk is ranked among ENRs Top 500 Design Firms. With more than 850 employees in Minnesota, Iowa, North Dakota, North Carolina and South Carolina, there are always new challenges and career development opportunities available.
OUR BENEFITS
At Bolton & Menk, we value our people and provide an exceptional Total Compensation and Benefits Package to protect our most valuable asset. We are committed to the well-being of our employees and their families. Perks of being a Bolton & Menk employee include peace of mind with our benefits package and competitive compensation plan to include medical, dental and vision insurance, flexible schedules, PTO benefits, and career development opportunities.
We thank all applicants in advance for their interest in this position, however, only those selected for an interview will be contacted.
Bolton & Menk does not accept unsolicited resumes from individual recruiters or third-party agencies in response to Bolton & Menk job postings. No fee will be paid to third parties who submit unsolicited candidates directly to our hiring managers. Pre-approval from the Bolton & Menk Talent Acquisition team is required before any external candidate can be submitted and such candidate must be submitted to the Bolton & Menk Talent Acquisition team.
We're Social! Connect with us on Facebook.
It is our responsibility and privilege to embrace the diversity of people, thoughts, and experiences necessary to develop infrastructure systems that serve all people. Bolton & Menk, Inc., is an Equal Employment Opportunity / Affirmative Action Employer including disability and vets.
Women and minorities are encouraged to apply.
Apprenticeship Programs
Send us a message and we'll get back to you.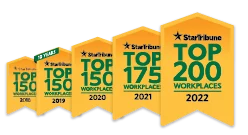 Named one of the very best workplaces in the State of Minnesota! We're proud to rank in the Top 50 on the list, and even prouder that we were voted in by our own employees.