The City of Mankato was recognized by the American Public Works Association (APWA) – Minnesota Chapter at the annual conference on November 17. The City of Mankato Water Treatment Backwash Reclamation Project received the Environmental Stewardship Award for their innovative water reclamation treatment process. 
The City of Mankato and Bolton & Menk, Inc. identified a significant source of water that could be reclaimed for drinking water. The backwashing process required to keep ultrafilter membranes clean at their major water plant was producing 450,000 gallons per day that could be returned to the drinking water supply. Additionally, this relatively clean water discharged to the sanitary sewer added unnecessary flow at the wastewater facility. A solution was engineered that converted backwash holding tanks to reclaim tanks, avoiding the need to discharge to the sanitary sewer. The amount of water saved is equivalent to the daily use of 5,000 people. The cost and sustainability benefits of this project are more than enough to justify and offset the $1 million cost.  
Pictured left to right: Sue Mason (APWA Committee), Mary Fralish (City of Mankato), Kris Swanson (Bolton & Menk), Kyle Hinrichs (City of Mankato)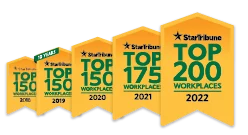 Named one of the very best workplaces in the State of Minnesota! We're proud to rank in the Top 50 on the list, and even prouder that we were voted in by our own employees.