Thanks to our friends at Esri our children's books are now available for pre-order, starting with Lindsey, the GIS Professional. Lindsey's story of mapping her favorite park using GIS methods will be officially available on May 19, but you can preorder her story using any of the links below! In the meantime, you can check out her story at our online library.
You can preorder this book on Amazon, Barnes & Noble, and Indiebound.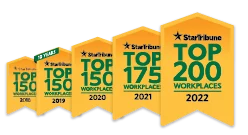 Named one of the very best workplaces in the State of Minnesota! We're proud to rank in the Top 50 on the list, and even prouder that we were voted in by our own employees.