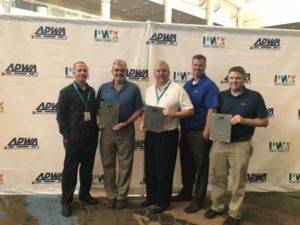 The American Public Works Association (APWA) named the City of Mankato's Water Treatment Backwash Reclamation Project "Project of the Year," the highest honor in the environmental category for a project less than $5 million. The award was presented during the APWA 2017 Public Works Expo and Annual Conference in Orlando, Florida August 27-30.
The project converted holding water tanks (used to backwash and clean ultra-filter membranes used in the water treatment process) to reclaim tanks. This results in 450,000 gallons per day of useful water now being cycled back through the water treatment process. The amount of water saved is equivalent to the daily use of 5,000 residents. The dual benefit is a decreased amount of source water being drawn from city wells and less water being needed for treatment at the wastewater treatment plan. Benefits of this project will more than offset the $1 million cost.
The project was designed by Bolton & Menk, Inc. of Mankato, Minn. and constructed by Gridor Construction of Buffalo, Minn. The APWA award was presented August 28 at the APWA Public Works Expo in Florida. View a video about the project online. This project has also been recognized by the Minnesota Public Works Association (MPWA) and the American Council of Engineering Consultants (ACEC).
Pictured Left to Right: Kyle Hinrichs (City of Mankato Water Treatment Operations Foreman), Mark Winson (City of Mankato Director of Public Utilities), Brad DeWolf (President/CEO of Bolton & Menk, Inc.), Kris Swanson (Principal Engineer, Bolton & Menk, Inc.), Steve Lee (Project Manager, Gridor Construction)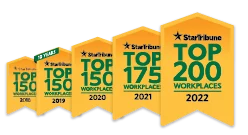 Named one of the very best workplaces in the State of Minnesota! We're proud to rank in the Top 50 on the list, and even prouder that we were voted in by our own employees.