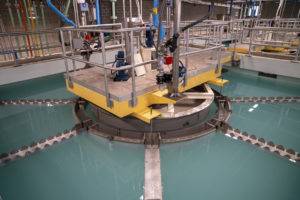 On Tuesday, August 4, the City of Morris received the Chloride Reduction Leadership Award at the 2020 Salt Symposium. This award was given to the city's water treatment plant for their work to treat both water and wastewater issues at the source.
The Minnesota Pollution Control Agency (MPCA) issued the City of Morris a chloride limit to reduce chloride discharge from their wastewater treatment facility (WWTF) to the Pomme De Terre River. The city's source groundwater is extremely hard and has resulted in water customers using ion exchange softening to condition the water. The city and Bolton & Menk decided to address the chloride limit by designing and constructing a lime and soda ash softening water treatment plant.
The new water treatment facility is treating groundwater with a hardness of approximately 800 mg/L as calcium carbonate (≈ 47 grains per gallon) down to about 90 mg/L (≈ 5 grains per gallon). Chloride concentration discharged from the city's WWTF had averaged nearly 830 mg/L and is now below 400 mg/L with the new water treatment plant in operation.
With the new softening plant online, there was still work to do to encourage water customers to stop using or significantly reduce their salt usage with ion exchange softeners. The city undertook a significant public education effort to help customers understand the need for decreased salt usage and the effects on the environment. This effort has proven successful as chloride discharge from the city's WWTF is below the limit issued by the MPCA and ensures aquatic life in the Pomme De Terre River is protected from the toxic effects of chloride pollution.