Location
City of Morris, Minnesota
Solutions
Sectors
In 2012, an NPDES permit to the City of Morris required a reduction of chlorides from their wastewater treatment facility. The city hired Bolton & Menk to help address the issue.
Our team evaluated the wastewater treatment needs as well as potential water treatment facility improvements. We recommended a lime and soda ash softening water treatment facility to treat the water prior to the introduction of chloride in the waste stream by ion exchange softeners. By providing softened water to residents and businesses, the need for individual ion exchange softening decreased significantly, resulting in less chloride discharged into the Pomme De Terre River. While the environmental concerns drove the regulatory requirement, the project's additional benefit was replacement of an aging, 40-year-old water treatment facility.
The new facility meets the EPA and Minnesota Department of Health's Primary and Secondary Drinking Water Standards and reduces the treated water supply hardness by 90 percent. Chloride concentration to the WWTP is reduced from 830 mg/L to 355 mg/L, well below the limits.
Awards
Salt Symposium – 2020 Chloride Reduction Leadership Award
Resources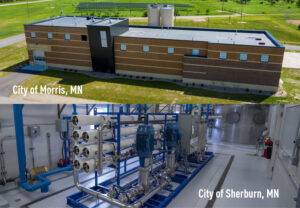 Different-sized cities require different water and wastewater solutions. Learn how Bolton & Menk used chloride reduction to treat wastewater at the source for Morris and Sherburn.
Learn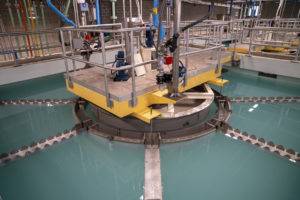 We want all of our communities to enjoy clean, safe water – from personal use like drinking and swimming, to benefits for animals and fish. Fixing the chloride effluent problem at the source has resulted in a safe, sustainable, and beautiful community for Morris.
Learn