Haila Maze, AICP
Principal Planner
As a principal planner, Haila is committed to advancing the long-term success of communities through planning and project management services. She draws on her experience in local and regional planning to connect with clients, helping them identify what they need and how to accomplish it. She began her planning career in 1998 and has extensive experience with land use and transportation planning, creative and inclusive engagement, and supporting work in health assessment, scenario planning and modeling, and implementation planning. Known for thorough studies, it's not surprising Haila is fascinated with genealogical research and has traced her family history back to the 1600s.
Education
University of Minnesota

Duke University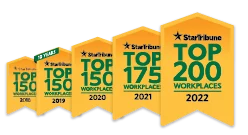 Named one of the very best workplaces in the State of Minnesota! We're proud to rank in the Top 50 on the list, and even prouder that we were voted in by our own employees.