Lily Winter
Training & Outreach Coordinator
Lily is a training and outreach coordinator on the Bolton & Menk team who uses her can-do attitude to assist in internal training and facility coordination, volunteer recruitment and sponsorship opportunities for outside organizations, and develop tools and materials for outreach activities. Her experience includes program management, specifically in assisting and designing programs, communication quality oversight, and assembling, reviewing, and testing data. Beginning her career in 2019 and bringing with her three years of experience as a volunteer-coordinator for Gustavus Adolphus College, Lily's expertise in designing and planning events as well as her insightful recruitment techniques allow the talent management work group to run smoothly and efficiently. In her spare time, Lily enjoys reading, writing, exploring new sushi restaurants, and playing collaborative board games.
Education
Gustavus Adolphus College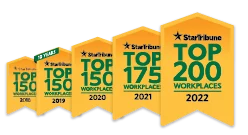 Named one of the very best workplaces in the State of Minnesota! We're proud to rank in the Top 50 on the list, and even prouder that we were voted in by our own employees.