Volunteerism is embedded in our mission: all people should live in safe, sustainable, and beautiful communities. Our communities flourish when we actively support important local causes, whether it be volunteering in a classroom, supporting a food shelf, or picking up trash from a park or roadway. Bolton & Menk works directly in the communities in which we live and play—why not volunteer too? Our communities are stronger when everyone works together to give back.
Lily Winter, training and outreach coordinator at Bolton & Menk, spearheads volunteering efforts by locating, vetting, and promoting corporate volunteer campaigns. In her role, she witnesses first-hand how Bolton & Menk employees have a passion for giving back however they can.
Combating Student Hunger through Food Volunteering Programs
One of Lily's favorite memories was volunteering with the group Feeding Our Community Partners' (FOCP) BackPack Food Program. This organization strives to combat hunger and food insecurity by providing well-balanced meals to elementary students when school is out. A group of 10 Bolton & Menk employees spent an afternoon packing paper bags full of food— a simple enough task, but profoundly impactful. These paper bags were distributed to local schools to be discretely placed in the backpacks of students experiencing food disparity.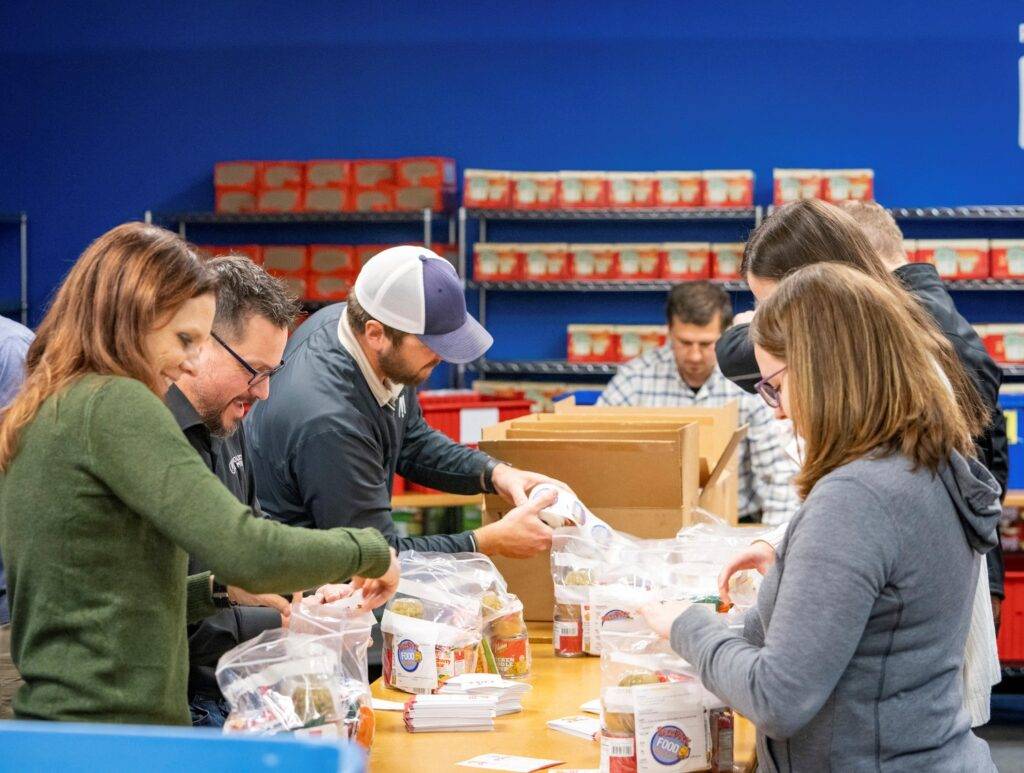 Weeks later, Lily discovered that one of our initial volunteers, Rob Pietz, an engineering technician at Bolton & Menk, had been returning every Monday to continue serving FOCP's Backpack Food Program. He didn't volunteer to boast or gain esteem in the community but was giving back because he saw a need and wanted to help. Pietz initially got involved in FOCP because he was looking to get involved on a weekly basis, and the program manager mentioned they are always looking for volunteers. Pietz enjoys volunteering at FOCP, "because of their commitment to help end child hunger, the wonderful staff, and a chance to work with other volunteers within the community."
"This experience is a reflection of our employees' desire to become involved and support the communities in which we work and play," said Lily Winter.
Jeni Brown, GIS specialist, used her skills and the GIS Bolton & Menk team to help create GIS maps and address lists for delivery of FOCP boxes. These maps helped streamline the delivery by organizing service areas and delivery locations to provide food boxes more efficiently to families in need. Bolton & Menk was able to create this reusable solution for FOCP to meet their delivery mapping needs on a continual basis.
At Bolton & Menk's Burnsville location, employee volunteers participate in the Feed My Starving Children (FMSC) program where meals are packed for children to be shipped across the world to combat food insecurity. FMSC works with food distribution partners that stay with communities for the long haul, empowering them to move from relief to development.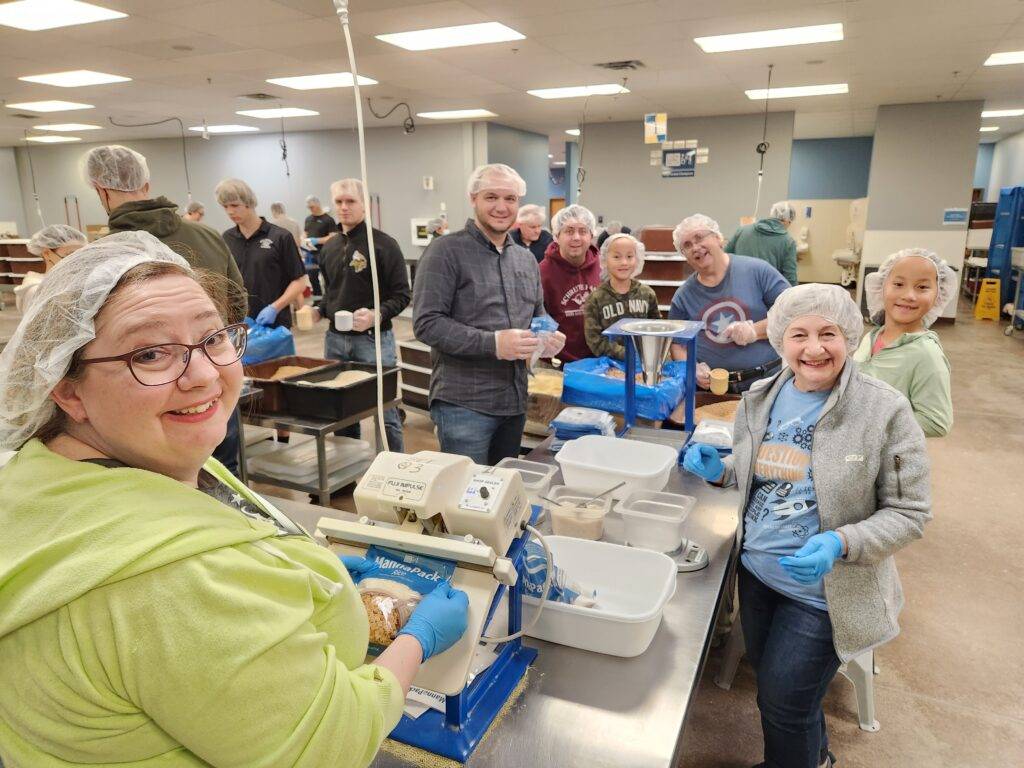 Up to twice a year, volunteers "have a fun competition to see which table can pack the most meals. It builds camaraderie, but in the end, it's the kids who benefit!" said Tim Lamkin, principal transportation engineer with Bolton & Menk.
Paving the Way Through a United Way
To serve Mankato and beyond, we find value in giving back to our local communities through the Greater Mankato Area United Way organization. Their mission is "to unite the community to secure and invest resources to improve people's lives."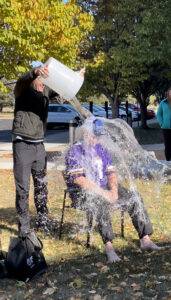 Each year, the United Way selects and vets local programs to support, including the YMCA Brother/Sister Program, Lutheran Social Services of MN's Sex Trafficking Prevention, and Financial Counseling among many others. By giving to the Greater Mankato Area United Way, residents know their money is being reinvested back into their community.
The United Way rally kicks off mid-September each year to raise money for the Greater Mankato area. At our rally, a United Way speaker visits our location to provide an update on annual goals and pass out pledge forms. Bolton & Menk employees may elect a payroll deduction to support the United Way and their partner programs. From September to December, office-wide events are also held to encourage United Way donations, such as a dunk tank, pie-in-the-face competition, or the ice bucket challenge.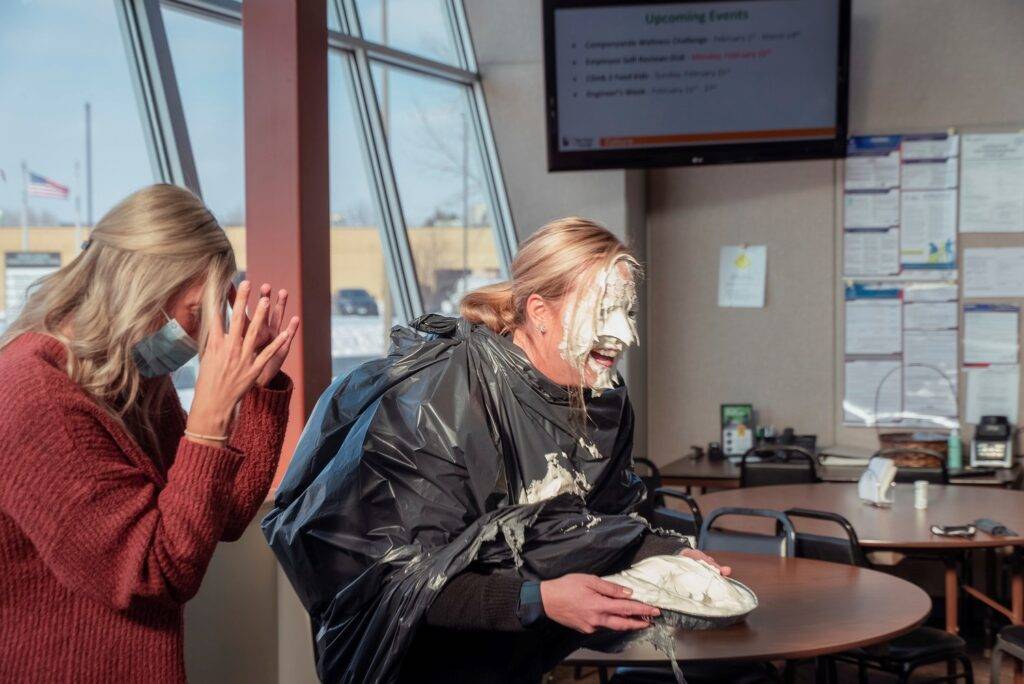 Helping Students Thrive through Junior Achievement Volunteering
Junior Achievement (JA) is a program that helps kindergarten through high school students learn skills that help build thriving communities. Most programming is volunteer driven and focuses on financial literacy, career readiness, and entrepreneurship.
This program aligns with Bolton & Menk's vision of safe, sustainable, and beautiful communities, while also helping to build prosperous foundations for students. Celeste Voss, senior talent management generalist, has been connected to JA for more than 10 years. She has made some of her fondest memories through the program: "I always enjoy surprising my own children in their classroom and being their JA teacher! I also will never forget an elementary class that I taught, and all the kids hugged me goodbye. They may not remember that day, but it was a day I will never forget knowing that I somehow made a difference in their lives."
Serving the Southeast Through Friendly Competition
In addition to their individual volunteer efforts, our Southeast teams rally together to fight hunger in our communities. Every year, our Charlotte and Raleigh teams get competitive for a cause. Each workgroup forms teams to collect the most non-perishable foods and raise the most money for Second Harvest Food Bank of Metrolina and the Food Bank of Central & Eastern North Carolina.
Second Harvest Metrolina serves 24 counties in North Carolina. They provide a regional distribution warehouse and branches that supply food and grocery items to charitable agencies that assist people in need. Second Harvest provides training, technical assistance, and education to their partners.
The Food Bank of Central & Eastern North Carolina teams work to nourish our communities through strategic planning, equity inclusion, and solution building. They have programs and systems in place to stand strong as a trusted resource for ending hunger in our communities. Just last year alone, they provided over 81 million meals to families and individuals.
Our Myrtle Beach team supports the Socastee Food Pantry, a local non-profit food bank operated by volunteers who are primarily veterans. Socastee Food Pantry is one of many community outreach programs provided by Faith Outreach Ministries of the Grand Strand.
Employers and Volunteering: Meeting in the Middle
At Bolton & Menk, we live in the same communities as our projects and care about the longevity of the community, be it a road, food shelf, or STEAM school program. In 2021, Bolton & Menk launched Volunteer Time Off (VTO) to encourage employees interested in volunteerism to get involved in their local communities.
Getting Involved with Volunteering
There is no better time to start volunteering than now. It can be intimidating to walk into a new situation and not know what to expect, but for anyone, this is a great way to learn from others and quickly adapt to a new concept or environment.
Volunteering can be fun when you work with an organization that lights your fire. From food packaging, to running a book donation drive, to volunteering in a classroom, anything you decide to pursue is giving back to the community and making it a better place to live, work, and play.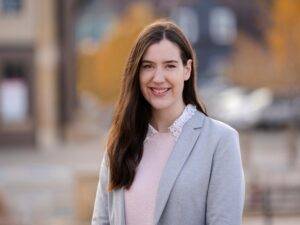 Lily Winter, Training & Outreach Coordinator, assists in locating, vetting, and promoting corporate volunteer campaigns for Bolton & Menk. She enjoys getting employees involved in communities through volunteerism and supporting important local causes.