In Hastings, Minnesota, along the Mississippi River, the community's newly revitalized downtown area has offered opportunities for event programming and a bustling network of local restaurants and businesses. After extensive engagement efforts and thoughtful consideration of community voices and ideas, Bolton & Menk was able to work with the city to build a space that is catered specifically to their goals and visions. Feedback from residents and tourists has allowed Hastings to take advantage of opportunities to create well-attended programs that serve all demographics, such as storytimes, movies, music, performances, and parties, according to Paige Marschall Bigler, recreation program specialist at the City of Hastings. Through park revitalization and innovative programming Hastings has reconnected their downtown to the riverfront area with a space that can be enjoyed for years to come.
"Community focused design brings ownership of park systems back to the community helping set the stage for successful programming of the space. It's designed by the community and ties back to the character and uniqueness of the community." said Sam Kessel, senior project landscape architect at Bolton & Menk.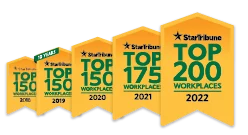 Named one of the very best workplaces in the State of Minnesota! We're proud to rank in the Top 50 on the list, and even prouder that we were voted in by our own employees.