Location
City of Des Moines, Iowa
Solutions
Sectors
The City of Des Moines is completing a multiphase streetscape of 6th Avenue—a primary transportation corridor leading into the downtown. This project included storm sewer, PCC sidewalk, traffic signalization, lighting, water quality improvements, and milling and HMA roadway resurfacing.
Bolton & Menk completed construction management and observation for phase one. The design was completed by Des Moines staff and bid through the Iowa DOT. Our inspection team coordinated with the Iowa DOT and city staff to take the project through construction and final close out. Weekly coordination meetings helped keep everyone up to date on the schedule and progress. Project updates were provided to the local corridor director for distribution across Facebook, email, and paper copy to inform residents of project status. Playing a critical role in communicating with all involved parties, we were able to foresee challenges with this type of project and the difficulty working adjacent to downtown. Through close coordination with the city and contractor all concerns were addressed in a timely matter, keeping the project on schedule.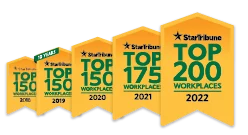 Named one of the very best workplaces in the State of Minnesota! We're proud to rank in the Top 50 on the list, and even prouder that we were voted in by our own employees.