Location
Sibley County, Minnesota
Solutions
The Sibley Meadows Wetland Bank includes 158 acres of mesic prairie, wet meadow, shallow marsh, and deep marsh. Bank approval occurred in November 2019. Monitoring commenced in spring 2020, using floristic quality assessment methodology to determine restoration success.
The project abandoned and rerouted a significant portion of Judicial Ditch 12. Significant project challenges included neighboring property push back and contentious county board meetings. Through several property owner meetings, county board meetings, and question and answer sessions, the project was delivered on time. Since design changes were fluid, communication with BWSR and the USACE was critical so the design would pass through each permitting stage without regulator disagreement.
This project was also the first to employ the "Alternative Method for Determining Wetland Mitigation Credit Potential on Hydrologic Restorations on Cultivated Fields in Minnesota" joint USACE and BWSR guidance. As part of our prospectus, we submitted a credit allocation map, based on CWA and WCA guidance. Through agency negotiation and coordination, this new crediting methodology was developed using the Sibley Meadows Wetland Bank as its basis. By incorporating this methodology, this bank and others see up to a 15 percent increase in federally approved credits.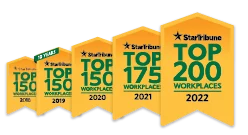 Named one of the very best workplaces in the State of Minnesota! We're proud to rank in the Top 50 on the list, and even prouder that we were voted in by our own employees.