Bolton & Menk provides high quality transportation planning and engineering services and deliverables. Our services range from transportation and traffic studies to final design and construction administration. We collaborate with stakeholders, learn about their interests and needs, and find sustainable solutions for your goals. You can trust us to deliver quality solutions that are technically feasible, publicly acceptable, environmentally compatible, and economically viable.
Our team offers a broad range of transportation planning, operations, design, and project management services. We guide clients through conceptual planning, preliminary design, final design, regulatory approval, and construction. We also bring a wealth of knowledge in available funding opportunities to help move projects forward or make them more appealing to project partners. In the last five years, we have helped secure more than $15 million in Highway Safety Improvement Program (HSIP) funding for our clients. We have the experience and expertise to provide large-scale highway design and construction services and we specialize in local transportation services such as neighborhood and sub-area traffic studies, intersection safety and capacity analyses, modal integration, and corridor studies.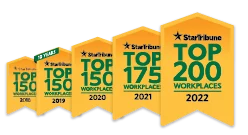 Named one of the very best workplaces in the State of Minnesota! We're proud to rank in the Top 50 on the list, and even prouder that we were voted in by our own employees.