Location
City of Redwood Falls, Minnesota
Solutions
Sectors
A large ice jam broke and sent significant ice and debris over the historic Swayback Bridge, which caused significant damage to the stonework. Bolton & Menk mobilized to perform an emergency assessment of the structural condition, including recommendations for temporary provisions to quickly reopen the structure to the traveling public.
Bolton & Menk prepared restoration plans and specifications, including reconstructing damaged portions of the stone parapets and fascia, pier repairs, mortar replacement, historic tuckpointing repair, and expansion joint reconstruction. Although locally funded at the time of construction, all restoration design was specified to be performed in accordance with the Secretary of Interior's Standards for Historic Preservation—preserving the historic elements of the bridge and maintaining eligibility for future federal funds.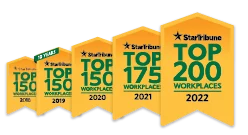 Named one of the very best workplaces in the State of Minnesota! We're proud to rank in the Top 50 on the list, and even prouder that we were voted in by our own employees.