Location
City of Fargo, North Dakota
Solutions
Sectors
The City of Fargo is planning to develop property bounded by 57th Street North, 45th Street North, and the railroad extending through the Horse Park property. Development is anticipated to extend to the north extraterritorial boundary between Reile's Acres and the City of Fargo. Therefore, trunk storm sewer sizing and preliminary lift station analysis were required to determine the level of infrastructure needed to accommodate initial development plans and future needs.
The City of Fargo's Storm Sewer Master Plan analyzed existing drainage conditions and proposed stormwater management systems under a variety of development scenarios using Innovyze InfoSWMM hydraulic modeling software. Several development scenarios were analyzed to detail the required storm sewer, lift station, and surface storage requirements.
The master plan identified a framework for regional storm sewer construction, lift station construction, and surface flood storage areas. It also guided the city in determining critical infrastructure needs for a large development in its final stages of approval. Future roadway needs were analyzed in conjunction with the trunk storm sewer project to ensure construction phasing was carefully considered.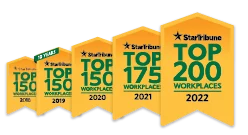 Named one of the very best workplaces in the State of Minnesota! We're proud to rank in the Top 50 on the list, and even prouder that we were voted in by our own employees.