Location
Smithfield Foods, Inc.
Solutions
Sectors
Smithfield Foods performed a comprehensive review of wastewater pretreatment and treatment facilities and operations at its Crete, Nebraska pork processing facility. Bolton & Menk identified several process, facility, and operational modifications and improvements for use in Smithfield's long-range capital improvements program. The evaluation included a process evaluation, review of the condition and adequacy of treatment facility components, and operations. The recommendations were prioritized in a list for the Smithfield implementation program.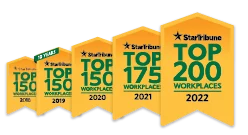 Named one of the very best workplaces in the State of Minnesota! We're proud to rank in the Top 50 on the list, and even prouder that we were voted in by our own employees.