Bolton & Menk provides planning, design, and construction engineering services to numerous industrial clients, from family farmers to internationally recognized brand names. Our team of professionals bring a broad background in waste treatment to provide a comprehensive solution. We have expertise in process water treatment associated with vegetable, raw meat, and dairy, and further processing facilities in the food and beverage industry.
Our client focused engineering methods have allowed us to design some of the most advanced and first-of-their kind treatment facilities in the country. We plan and design easy-to-maintain systems to ensure regulatory compliance and meet capacity demands. Our process results in practical and cost-effective approaches to address industrial water needs.
Industrial Resources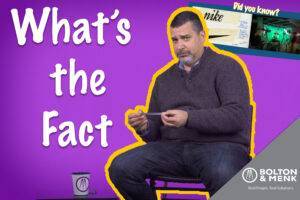 What's the Fact about Graphic Design?
Learn some facts about our Creative Studio as Dave Breiter explains the need for graphic design in a predominantly engineering-focused company.
Watch