Look both ways before crossing the street is one of the first things we are taught about traffic safety. How can we make crossing streets safer for pedestrians, bicycles, and vehicles alike?
The History of Minneapolis 4th Street
In Downtown Minneapolis, Minnesota the 4th Street corridor needed major reconstruction to make the street safer for pedestrians, bicyclists, and vehicles. The city wanted the corridor to better serve the multiple modes of traffic that use it daily. Bolton & Menk was brought on board to provide final design and construction administration services for the entire corridor reconstruction, from 2nd Avenue North/I-94/394 to 4th Avenue South. There are many high-profile destinations along the corridor despite its deteriorated condition, including city hall, the federal courthouse, Hennepin County Family Justice Center, Minneapolis Central Library, and the Police Precinct No. 1. The roadway needed drastic improvements for their pedestrian and bike facilities because the street was originally designed to favor motor vehicles.
Minneapolis 4th Street Corridor Improvements
After analyzing daily traffic volumes, downsizing the roadway was determined to be the best solution. This project underwent a road diet, which included removing a vehicle lane and relocating a bus lane to make space for other amenities that benefit the community. According to the Federal Highway Administration, road diets are a proven safety countermeasure. With this change, the 4th Street corridor would see reduced traffic speeds from narrowing roadways, enhanced pedestrian safety through added sidewalks and shortened crosswalks, and improved bicyclist safety with a separated bike lane.
Alt text: Biking along 4th Street is now a safe, comfortable option, and the two-way bike facility provides opportunity for side-by-side riding, creating a more social experience.
The Metro Transit bus route moved to parallel streets to accommodate wider sidewalks and a separated bike lane along the north side of the road without impeding traffic flow. The narrowed lanes created additional space for sidewalks and allowed the project to expand the planned one-way separated bike lane into a two-way. A significant project goal was to improve safety and walkability among pedestrians while co-existing with the bike and traffic lanes. During the final design phase, multiple scenarios were evaluated to determine the optimal solution. Pedestrians were prioritized and bicyclists are required to yield to pedestrians, improving safety for both travel modes and giving pedestrians the right-of-way.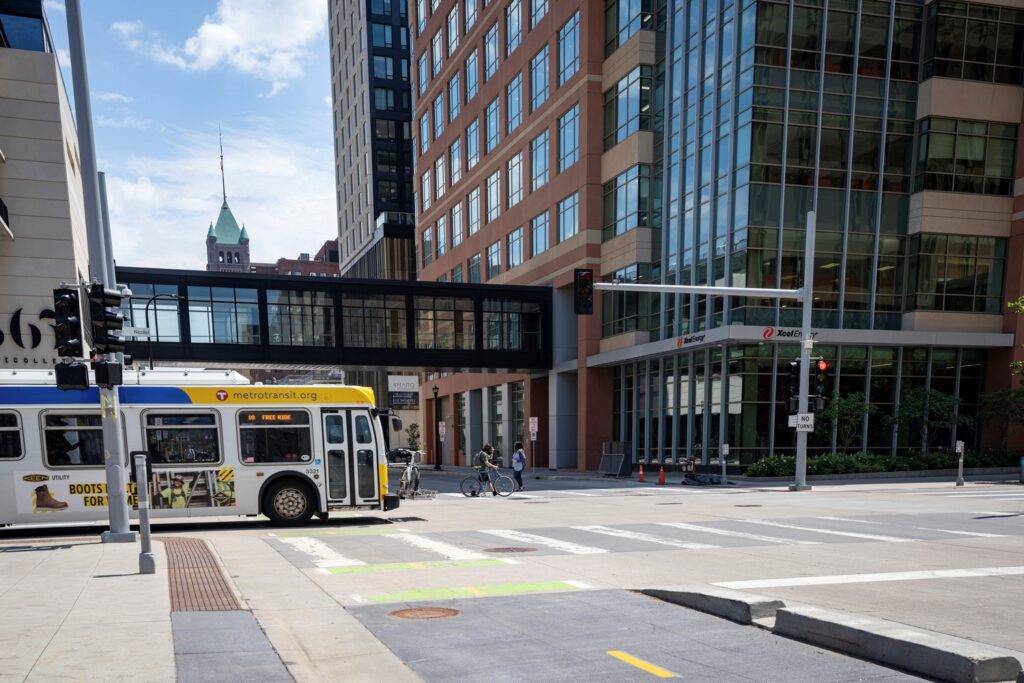 Community Involvement in the Project
The city initiated public engagement with the community during the preliminary design phase. With Bolton & Menk on the team for final design, several (pre-pandemic) in-person open houses were conducted to share the new layout with the public. The messages shared with the public emphasized a rebalancing of transportation modes—prioritizing pedestrian safety, improving bike facilities, and rerouting transit lines. Elevating the environmental and aesthetic characteristics of the corridor was another important attribute to share with the public. The new project added trees, planting beds, and rain gardens throughout the corridor where there were minimal landscape aesthetics prior to the project.
Collaboration with Hennepin Avenue Reconstruction
While the 4th Street project was in progress, a concurrent project was occurring on Hennepin Avenue. The Hennepin Avenue project included a two-way street with separate bike lanes in each direction that cross 4th Street. Given the intersection of these two separate projects, Bolton & Menk collaborated with the Hennepin Avenue design team to ensure the various travel modes, alignments, stormwater and utility improvements, and intersection treatments were cohesive.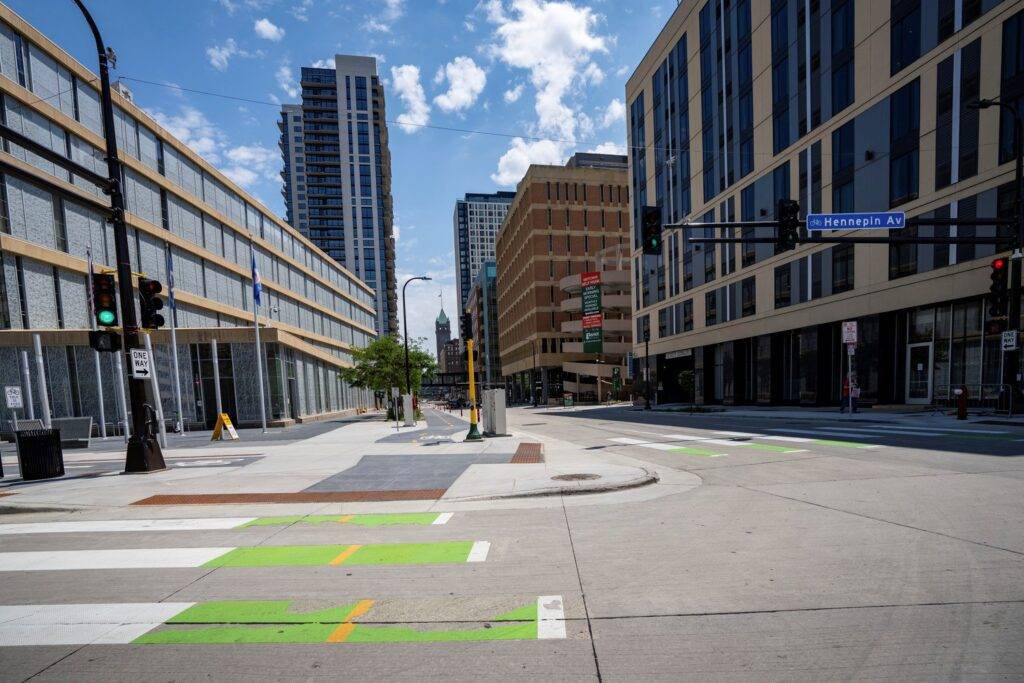 Serving the Community Through Accessibility on 4th Street
Serving the community remained top of mind throughout the project. The goal was to create a safe and comfortable place for all ages and abilities to use the two-way separated bikeway, while giving people more access to 4th Street. The wider, two-way lane offers bicyclists a more social atmosphere by riding side-by-side while still abiding by traffic laws, as opposed to single file on narrower one-way bike lanes. Improved traffic signals and accessible guidance strips were also added to provide another layer of pedestrian safety. The signals created a successful two-way bikeway on a one-way road to improve user clarity.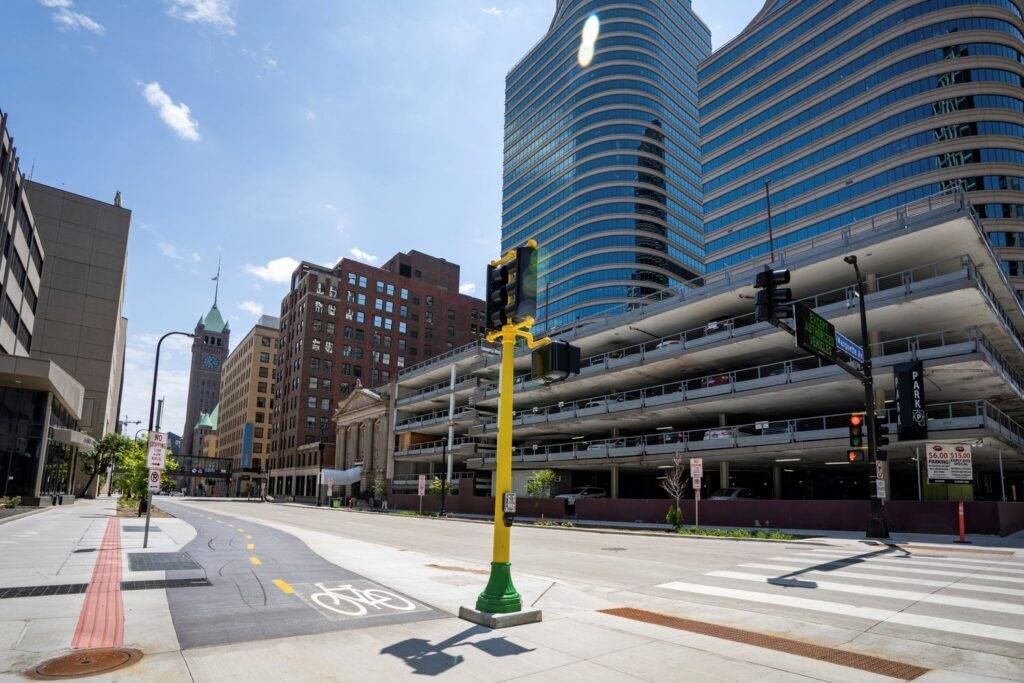 Bike facilities along roadways typically have an amenity zone reserved for benches and trees that define the space—this is especially useful for the visually impaired. Not all corridor areas had the space for these amenities. To combat this and make the corridor ADA accessible, Bolton & Menk researched solutions around the country for similar types of facilities. This research assisted the city in its implementation on both 4th Street and Hennepin Avenue improvements. Since ADA guidelines are not spelled out for these facility types, the projects offered opportunities to try out other innovative methods, such as using elongated guidance strips and ADA tactile surfaces to better delineate a separation between the sidewalk and adjacent bikeway.
Future of 4th Street
A Minneapolis transportation organization, Move Minneapolis, hosted a downtown tour of the new facilities. The design was well-received, and the importance of a two-way bike lane and guidance strips were explained. The project will be used as a model to explore upgrades to future projects around the city. As the city continues to learn from its projects and evolve for future ones, the value of making communities more walkable and safer becomes more apparent.
Learn more about Bolton & Menk's corridor and multimodal projects, here!
To learn more about another successful safe streets project in Des Moines, Iowa, read here!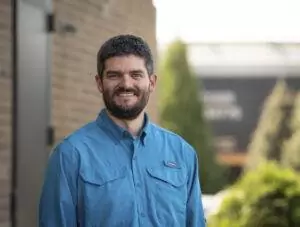 Cody Christianson has national bicycle and pedestrian design expertise that helps build support for improved multimodal infrastructure. By harnessing that experience, listening to community input, and coordinating with project stakeholders, he creates accessible designs that integrate into the existing infrastructure, are easy to navigate, and improve the region's transportation system for those who walk, bike, or roll. Cody started his career in transportation engineering in 2008 and leads Bolton & Menk's Active Transportation Services group.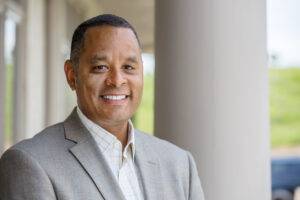 Marcus Thomas approaches projects by keeping desired goals and outcomes as familiar and measurable priorities throughout all phases of project development. His strategy of proceeding with the end in mind routinely results in high levels of client satisfaction and has generated a resume of award-winning projects. He loves helping communities solve complex problems. He has a range of experience in urban corridor retrofit projects from conception through construction and is a leader in the company's equity and sustainability initiatives.