Many professionals in the STEAM field can remember that first "spark of interest" that led them to their career path. It might have originated from a book they read, an activity in a classroom, or even a trip to a museum.
That first spark is just one of the reasons why Bolton & Menk became involved in the Science Museum of Minnesota's Partner Program, a new way for companies to volunteer in a post COVID-19 era. In the fall of 2022, Bolton & Menk became the first partner with the Science Museum. This is a flexible partnership where companies can send anywhere from 2-20 volunteers for a special day to interact with visitors by either bringing their own outreach activities or helping with ones the Science Museum has pre-selected.  
The Role of the Museum
Museums and libraries play an informal learning role in STEAM education for students. The Science Museum maps their exhibits and activities to state and national learning level standards. By doing this, they spark interest in a more interactive way than traditional learning styles, and at the end of the day, the student might think, "wow, I learned something new today."
The Science Museum has about 250,000 visitors annually, which largely includes visits from school field trips and its members. Teachers, family members, or guardians visiting the museum with children can make the connections of a real-life STEAM career from volunteers and encourage questions with children to spark interest in a STEAM career.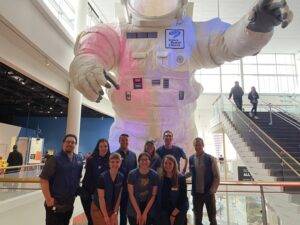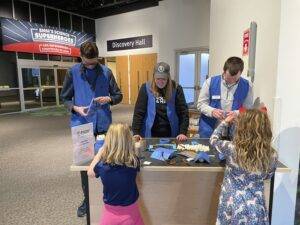 Volunteers, like Bolton & Menk, spend time on the floor of the Science Museum, engaging visitors in hands-on activities like building bridges to support weight, creating a nature field guide, making a paper airplane fly, and so much more. Teri Vogt, Science Museum Manager of Corporate Relations, says that the activities where visitors can take something home with them (dubbed "Make & Take Activities") are the most popular.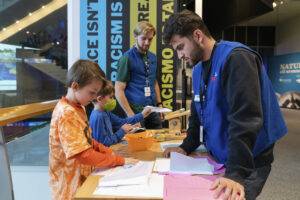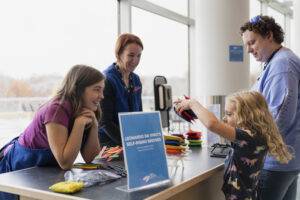 A Deeper Connection
STEAM careers are vitally important to our world today to meet the challenges of the future. For our communities to grow and thrive, we need to introduce kids to these professions. Kids are more likely to consider a STEAM career if they can see themselves in that field.  
How can we accomplish this?
"By bringing diverse STEAM professionals into the museum as mentors, collaborators, and content matter experts," says Vogt. "We need to present and approach science from different cultures so it can resonate and teach our kids in different ways. We need to continue to find ways to spark interest." 
To learn more about the Science Museum, purchase tickets to visit, or find volunteer opportunities, please click here.