Artificial intelligence has been a recent topic of debate across the country, and in most cases, sounds much scarier than it is. Our Geographic Information Systems (GIS) team heavily participates in researching and developing geospatial technology and are harnessing the use of artificial intelligence, specifically object detection and machine learning, to ensure our clients live in safe, sustainable, and beautiful communities.
Learn more about our GIS services, including artificial intelligence, here!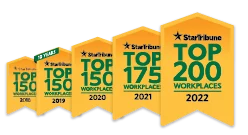 Named one of the very best workplaces in the State of Minnesota! We're proud to rank in the Top 50 on the list, and even prouder that we were voted in by our own employees.