As our construction crews are getting ready to get into the field, we wanted to shine some light on the importance of construction administration and inspection. Join us at Bully Brew Coffee in Fargo with Grant Kuper as he highlights the importance of having someone from the design team on the construction site and what happens if something goes wrong.
Learn more about the construction services we provide to our projects, here!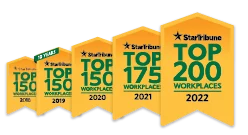 Named one of the very best workplaces in the State of Minnesota! We're proud to rank in the Top 50 on the list, and even prouder that we were voted in by our own employees.