Grant Kuper, PE, CFM
Project Manager
Grant is the Fargo civil work group leader, providing high quality and efficient service to our clients in North Dakota and northwestern Minnesota. Since beginning his engineering career in 2012, Grant has worn many hats, from serving as project manager overseeing projects to developing designs and construction plans to providing hands-on service as a construction project representative. This well-rounded experience has allowed him to excel in thinking about projects from the client's perspective, envisioning how the final product should look, feel, and function. When Grant isn't at work he's likely spending time with his family, enjoying the outdoors, or trying out a new recipe on his smoker.
Education
North Dakota State University
Awards
Prairie Business Magazine – 40 Under 40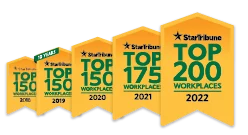 Named one of the very best workplaces in the State of Minnesota! We're proud to rank in the Top 50 on the list, and even prouder that we were voted in by our own employees.